Click here to return to 2012 Birding Reports: http://www.barry15.com/2012_Birding_Reports
Wednesday, August 1
This morning I set out to do some Washington State county birding.  I got out of here about 9 AM, and I just missed the 9:30 ferry from Mukilteo to Whidbey Island, but I was really shooting for the 10 o'clock one anyway.  I enjoyed the waterfront in the sunshine while I waited for the ferry.  I even picked up Double-crested Cormorant for my Snohomish county list while I waited.
Before I even got off the ferry at Whidbey Island, I had the first four birds for my Island County list.  Nothing exciting, but that is part of the fun of doing county lists – everything is new when you first visit a county.
I'm not going to go through the whole day of county birds, as that is beyond the scope of these reports.  I'll just mention that I got several "good" birds in Island county today, including Osprey, Northern Harrier, California Quail, Swainson's Thrush, American Kestrel, Harlequin Duck, Surf Scoter, and Long-billed Dowitcher.
In addition, I got the one that has prompted this report – RED-NECKED PHALAROPE.  I stopped at Crockett Lake to use my scope on some peeps, and I ended up deciding that they were Western Sandpipers.  I learned some things about the field marks of Western and Least Sandpipers while doing that, and that was great.  I also saw a larger shorebird in with the sandpipers, and I could tell from its bill and overall shape that it was a phalarope.  It was in its winter plumage, which made it harder to determine which species it was, but when I looked in my field guide, I realized that it had to be the Red-necked one, which is the one I needed for my year list still.  The other species, Wilson's Phalarope would be very rare here, and the size was also consistent with Red-necked.  It was larger than the sandpipers, but not 1 ½ times their size.  So, I hadn't expected to add a year bird today, although I was aware that Red-necked Phalarope was a possibility, as they have been seen by others on Whidbey Island this year.  They breed in the Arctic and are now on their way south to South America or somewhere down that way for the winter.  They come through here during about a 5 or 6 week window, and this is near the start of that window.
I ended up getting 36 species in Island county, which is very good for this time of year, considering that I was only in the county for about 4 hours.  On the way home, I drove off the north end of Whidbey Island, over Deception Pass bridge, and stopped a couple of places in Skagit county and got 17 species for my Skagit county list.  The best ones there were Chestnut-backed Chickadee, Hairy Woodpecker, and Purple Finch.  I got all three of those species at a well-known house (among local birders) on Valentine Road that has a lot of feeders and attracts a lot of birds.  I had seen all three of those species at that same location earlier in the year, interestingly enough.
I took very few pictures today, but I have some from my trip to the Olympic Peninsula last week that I haven't shown, so I'll show them now, and then one from today.
Here is a shot of part of the Olympic Mountains from Hurricane Ridge, which is at an elevation of about 5000 feet.  This is from last week, not from today.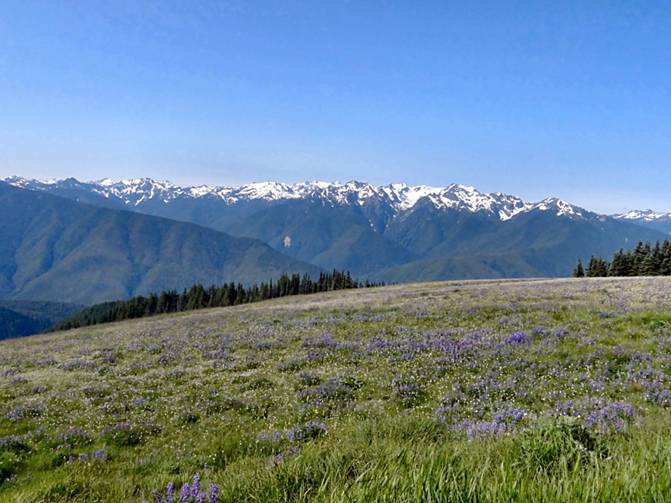 Here is a picture I like of a male Spotted Towhee, taken at the Railroad Bridge Park in Sequim, last week.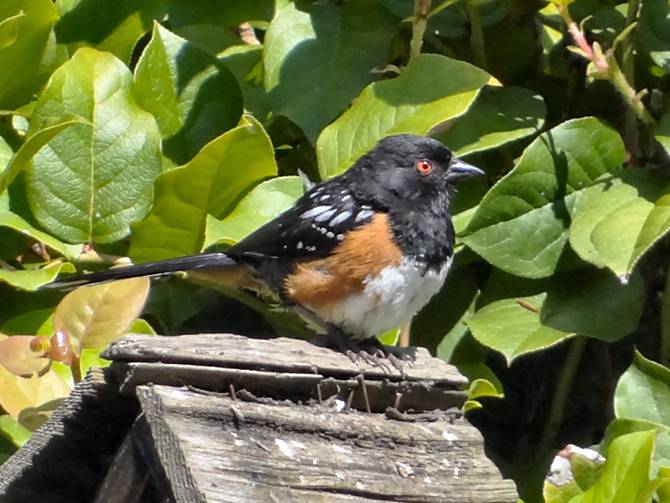 At that same place there was a small squirrel raiding the bird feeders.  It was obviously different from the Eastern Gray Squirrels we normally see everywhere.  It was smaller, and it was a different color.  I have discovered that it was a Douglas Squirrel, a species that is native to the west coast of North America.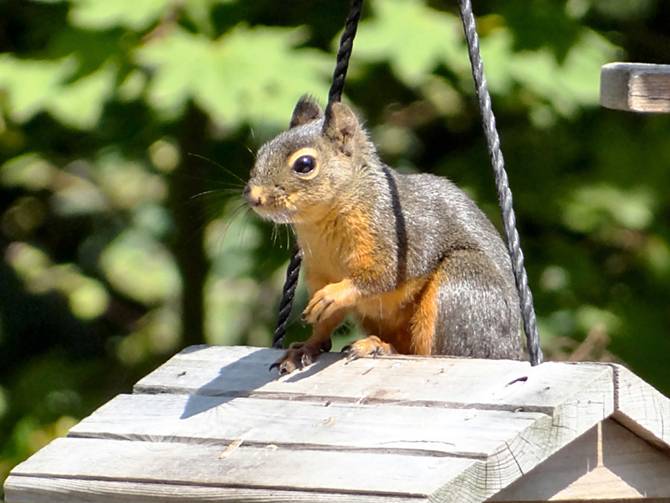 And, finally, from today I offer you a bird picture of what I believe is a Long-billed Dowitcher.  The Long-billed Dowitcher and the Short-billed Dowitcher are very similar, and the best way to tell the difference is from the voice.  I tried playing both calls today, but the birds didn't respond to either one of them, and they were silent.  The bill on this one is long enough that I feel confident in identifying it as a Long-billed, though.  Sorry, it was kind of distant, and it isn't a very good picture, but I wanted it for the record.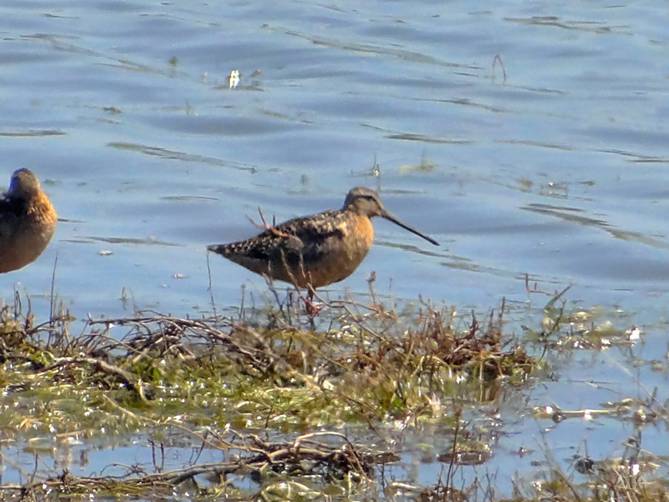 So, that was my birding adventure for the day.  I got a year bird, against all expectations.  I also got started on two more Washington counties.  My year list is now at 441, of which 106 are lifers.
For my end of month county report, my Washington county lists now stand at the following totals:
King (where I live)    33
Snohomish    20
Clallam    37
Kitsap    11
Jefferson    14
Island    36
Skagit    17
So, one month into this county project, I have seen birds in 7 of Washington's 39 counties.  A bare beginning.