Click here to return to 2012 Birding Reports: http://www.barry15.com/2012_Birding_Reports
Sunday, June 10
Well, here's another report from the Old Rambler.  We leave for our annual Yosemite trip on Friday, but I decided to shoe-horn in another overnight trip across the mountains beforehand.  I got away about 9:30 this morning, and drove over the Cascade Range on Interstate 90.  My first stop was Bullfrog Road, where Bullfrog Pond is located.  I walked down the old road to the river, and I played the song of my primary target bird for the day.  I had seen this bird in this location last year, so I was hopeful.
Sure enough, a bird flew across the road in front of me, and it looked like my target.  I got closer and got a great look at a lovely VEERY, a bird I have only seen twice before in my life.  I wouldn't be surprised if this was the same bird I saw last year, as it was in the exact same place.  Veery was one of my two main target birds for this trip, so it was very satisfying to find one at the first place I looked.  The bird gave me good looks at it, but it didn't stick around long, so no pictures, sorry to say.
As I got ready to go to my next birding site, I looked for my folder of information about this trip.  Couldn't find it.  Then I remembered that I had taken it out of the car to call the motel to make a reservation for tonight, just before I left home.  I left it in the kitchen, no doubt, after calling the motel.  I was without all my notes and detailed directions and emails I had gotten from other birders.  I remember most of it, so it wasn't a disaster, but it was inconvenient.  Another aging symptom, probably.
So anyway, having seen the Veery, I moved on to my other main site for the day, Robinson Canyon, just outside of Ellensburg.  I hadn't been there before, and it turned out to be a very nice canyon with trees and a creek.  Here is a picture of it, showing where I parked my car.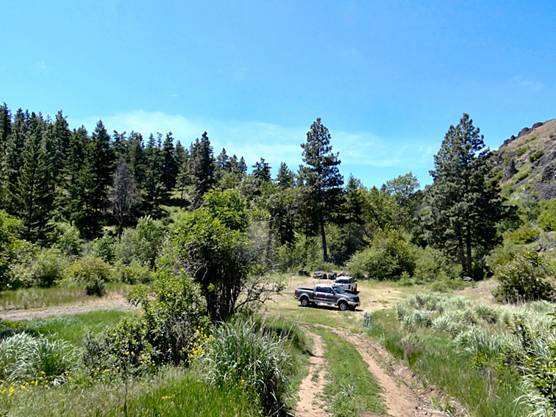 There was a trail up the canyon, past those big rocks you can see in the middle of the picture.  I walked a little way up the canyon, looking for a species of warbler that was reported to be common along the creek.  I wasn't seeing anything, and after a short distance, I went back to my car, as it was after noon, and I wanted to eat my humble lunch.  Surprise – it was a beef and cheese sandwich with pita chips, not a ham and cheese one.  I had leftover beef in the freezer, not ham.
Before I ate my lunch, though, the hillside to the right in that picture looked perfect for another species I needed.  As I approached the hillside, I noticed a hummingbird on top of a tree, and got this distant picture of a male Rufous Hummingbird.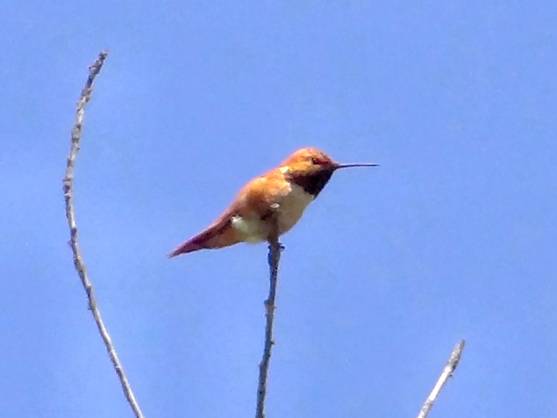 I always enjoy seeing hummingbirds in the "wild", as opposed to seeing them at feeders, which is where I usually see them.
I played the song of the bird that lives on shrubby hillsides, and sure enough, a male LAZULI BUNTING soon flew in.  It flitted around, and I got some pictures.  It is a bit overboard to show so many pictures of the same bird, but I don't have many pictures today, and I like all three of these, so here are three pictures of a male Lazuli Bunting.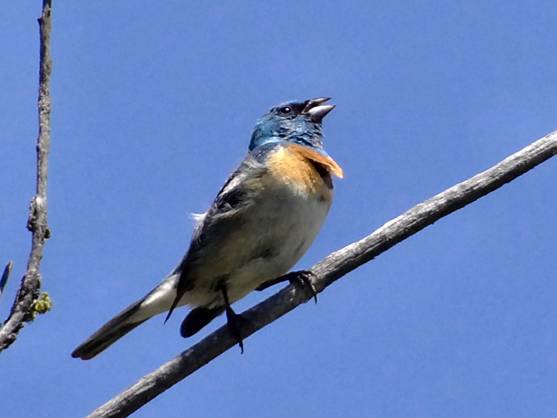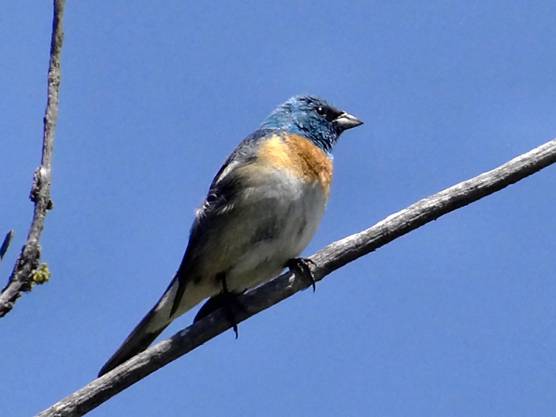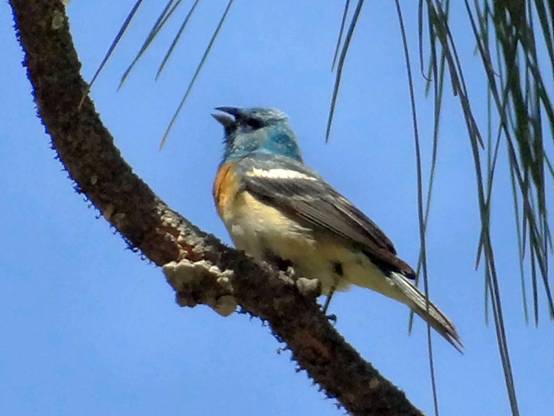 Some people pronounce it Laz' – oo – lye and some people pronounce it Laz – oo' – lee.  I prefer the former.
So, having gotten a second bird for my year list, I then had my lunch (beef and cheese, remember?).  After that, I went up the trail again, looking for my other target bird at this location (the Lazuli Bunting was the other one).  I played the song, and a bird flew in across the trail.  It flitted around a bit, and I got a good look at a MACGILLVRAY'S WARBLER.  That will probably be my last new warbler of the year, unless I get really lucky and see a Hermit Warbler in Yosemite.  That brings me to 32 members of the warbler family this year.  Last year, I only saw about 20, and several of those are ones I won't see this year.  No pictures, as it didn't stick around long and kept in the undergrowth.
Some of my readers consider playing the bird's song to be cheating, so I want to report that I did see another MacGillvray's Warbler a little later, without playing its song.
There are three members of the flycatcher family on my wish list for this trip, although none seemed very likely.  There is also an identification problem, as flycatchers look so much alike.  I saw a flycatcher at about that time, along the creek trail, and I was trying to identify it.  I got some pictures and I decided that it was a Western Wood-Pewee, a bird I had gotten in May when I came to this same general area.  Here is a picture.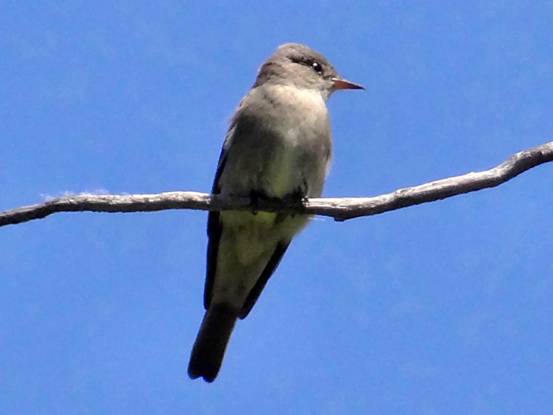 Since I had the MacGillvray's Warbler, which had been reported to be along the creek, and since one of the birders I had exchanged emails with had suggested a side trip from Robinson Canyon, I did that.  It meant going up a narrow gravel road that got rough at places, but it wasn't a problem for my Trailblazer.
There weren't many birds, but it was beautiful country and a lovely sunny day.  It was fairly windy, which probably impacted the birding, but it made the scenery very clear.  Here is a picture of Robinson Canyon from above.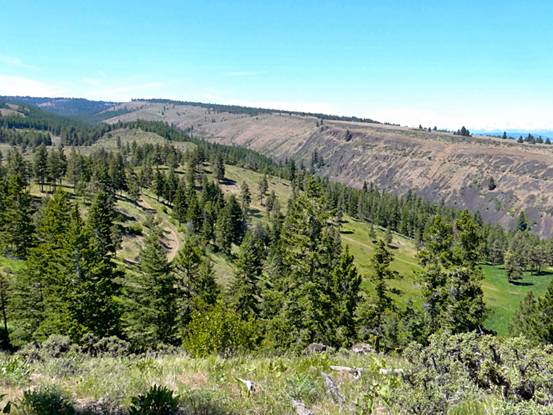 The creek follows that line of trees running from the middle right to the upper left of the picture.
There were great views of the Cascade Range in the distance, and here is a picture.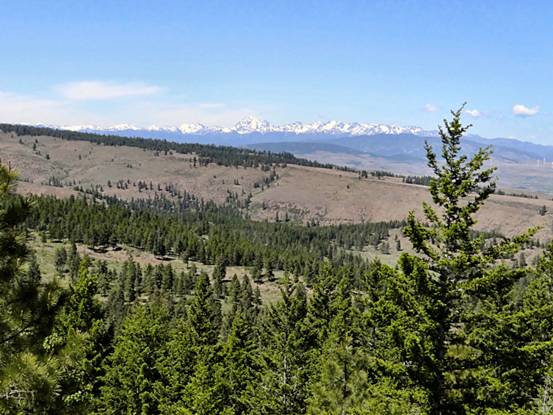 There weren't many birds up there on that road.  I stopped three or four times and walked around, but didn't see anything new.  I did see Cassin's Finches, Black-headed Grosbeaks, a Chipping Sparrow, a Yellow-rumped Warbler, an American Kestrel, and a beautiful male Western Tanager in the sun, but nothing I needed.
When I got back down to the valley, I went back up to where I had birded earlier, to see if I could get pictures of the MacGillvray's Warbler I had seen there.  This time I couldn't even see it, let alone get a picture.  I wandered around and saw a flycatcher at the top of a tree.  I got some pictures and got a good look, but I couldn't tell what species it was.  When I got to my motel and looked at the pictures, I decided that I am going to call it a HAMMOND'S FLYCATCHER, a bird I had only seen once or twice before, in Arizona last year.  Flycatchers are hard, as I have mentioned, but this one seems like a Hammond's to me.  I know they have been reported in that area, but the field marks are there, too.  Rounded head, eye ring that is wider at the back (that is the big one), and I think I can even see a yellowish wash to the lower belly in my pictures.  Here are two pictures of the bird, if anyone wants to offer another opinion someday.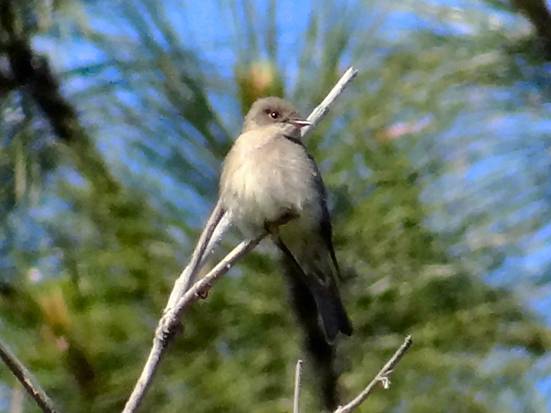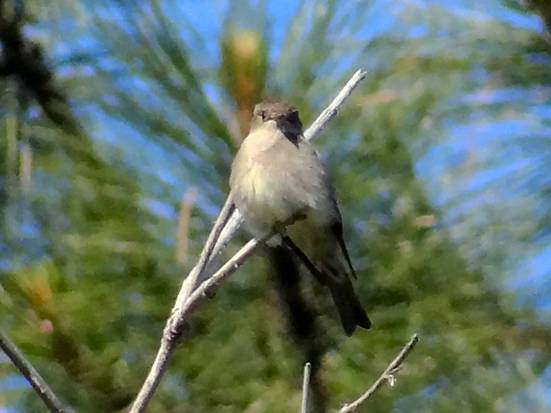 This one is kind of a sporty call, but I think the eye ring being wider behind the eye, combined with reports of Hammond's at this location, is enough to make the call.  As I keep saying, flycatchers are tough.
The flycatcher flew away, but while I was still there, another bird flew in to the same perch.  This one was a male Lazuli Bunting, quite possibly the same one I had seen and taken pictures of this morning.  Here is another Lazuli Bunting picture.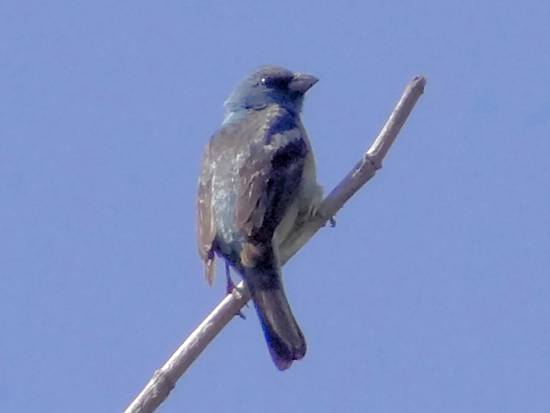 It was getting late by then, so I headed for the barn.  On my way out, though, I saw another flycatcher at the top of a dead snag.  This got my juices flowing, as another of my target flycatchers favors the tops of dead snags.  Before I could get out of the car and get ready to take pictures, though, it flew off.  While I was stopped there, a Chipping Sparrow did fly in, and I got this distant picture.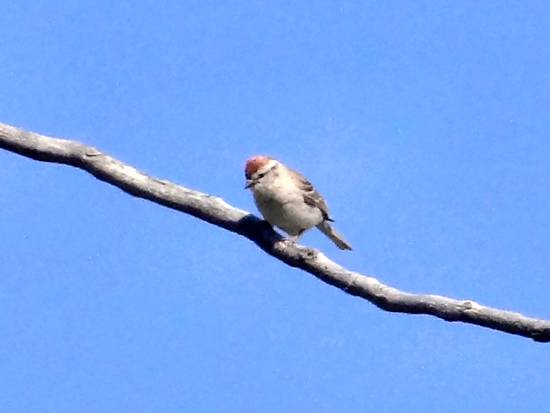 So, that was it for my birding today.  I got four more species for my year list, which exceeds what I expected on this whole trip.  I have hopes of adding another one tomorrow.  I have information about a nest with young in it, and I hope to see them tomorrow morning.  I wish I had my folder with the emails about it, but I will just have to go on my memory, I guess, although I can access the emails, anyway, from here, so that will help.
I now have 424 species for the year, of which 104 are lifers.  They are coming very slowly now, but I keep on plugging along.
Oh yes, a footnote.  When I got here to my lonely room, and sufficient time had passed, I poured my first little drinkie.  I used one of the plastic glasses they provided here at the motel.  Much to my chagrin, it turned out to have a crack in it, and it was leaking from the bottom.  Since I had only brought a measured and limited amount of bourbon, I was not pleased to see it leaking out the bottom of the cup.  Fortunately, I had my acrylic travel glass right there, filled with water, so I quickly emptied the water and transferred the bourbon and ice to the acrylic glass.  Oh, the trials and tribulations of travel.  Who knew they would slip a dribble glass in on me?  What a life.
Monday, June 11
Today was the day that I surpassed last year's total of 424 species.  Last year, that 424 included 41 species that I added in Hawaii, too.  I expect to add 30 or more to this year's total, if I get to Hawaii again, as I intend to do, in October or November.  So, it took me just over 5 months to exceed all of last year.  Another way to look at it is that I had 346 species last year at this time, so you could say that I am ahead of last year's pace by 78 species.
I was up and out of my lonely room by about 8:45, and I headed down Yakima Canyon, south of Ellensburg.  By about 9:05 I was at the Umtanum Recreation Area, across the Yakima River from where Umtanum Creek runs into the river.  I was looking for a nest that someone online had written about.  I had very specific directions about where to look.  Here is the view of the cliffs across the river from where I was standing.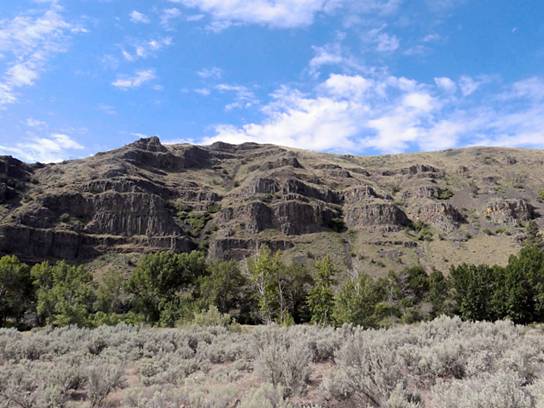 The nest I was looking for was on one of those cliffs.  It took me a few minutes, but I found it with my scope.  There is telltale "whitewash" below the nest, which helped me find it.  There weren't any adult birds around, but after a few minutes, I saw motion in the nest, and I added PRAIRIE FALCON to my year list.  At first, the young birds were mostly sleeping, but here is a picture that shows the nest and one of them.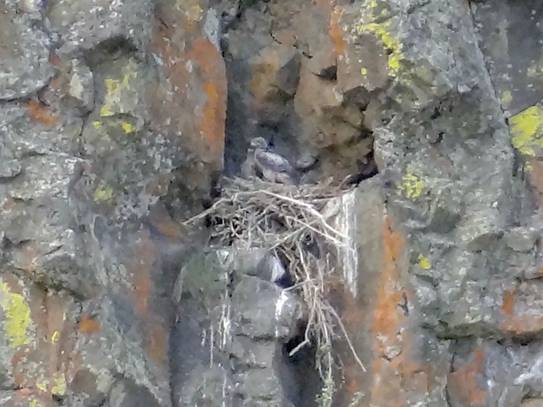 As you can see, the chicks are pretty big now.  I wonder how long before they fledge.  I watched the nest for over two hours, and never saw an adult bird, so they must have been getting hungry by the time I left.  At first I was trying to take pictures of the nest by hand-holding my camera, but the distance was so great that I attached the camera to my tripod for the rest of the pictures, to hold it steadier.
While I was watching for the adults, there were other birds around.  A pair of American Kestrels flew into a tree and perched for a while.  Then three Common Nighthawks flew around up the river, and later flew down the river over my head.  I got a couple of pictures of them in the air.  They are a distinctive looking bird in the air, as you can see from this picture.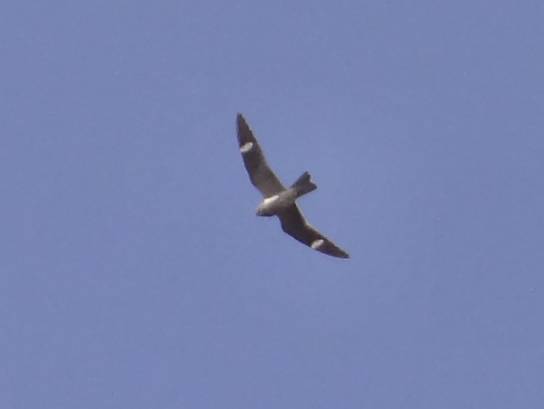 For size reference, the book says they are about 10 inches long, which is the length of an American Robin.  The nighthawk's wings are obviously longer than a Robin's, though.  As the name implies, they mostly hunt at night, and you usually see them at dusk and dawn.  Sometimes they fly around in the daytime, though, for some reason.
Also while waiting around, checking the nest from time to time, I saw a couple of American Goldfinches and some Cedar Waxwings.  I love waxwings, but they were a bit distant for good pictures.  Here is the best I could do of one of these very sleek looking birds: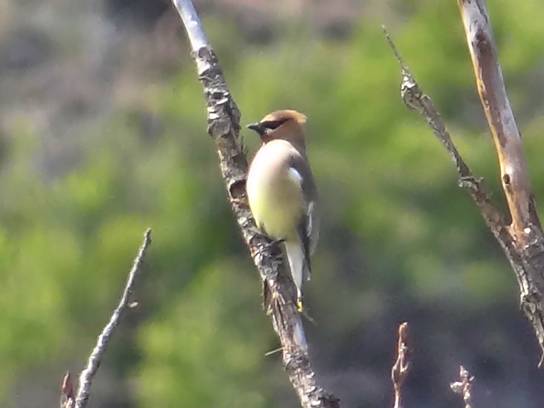 After an hour and a half or so, the chicks started being more active, and I moved to a closer position.  It wasn't clear where the public land ended and private land started.  There were No Trespassing signs in places, and I wanted to respect the private property.  I decided that the private land was along the river itself, and I found a place back from the river a bit, but still closer than where I had been at first, which was up on the access road.  From this closer vantage point, I could see that there were three chicks.  Here is a picture that shows all three of them.  One is bent over, to the right.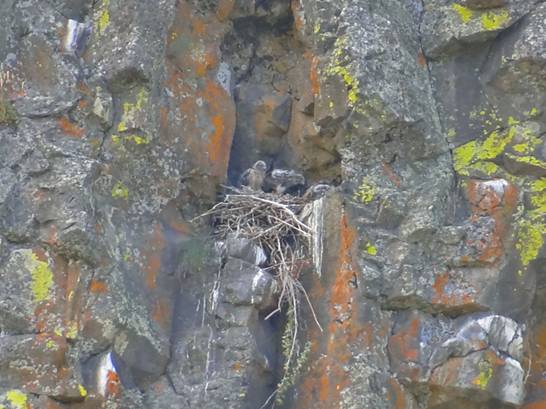 Here is another one from that same point.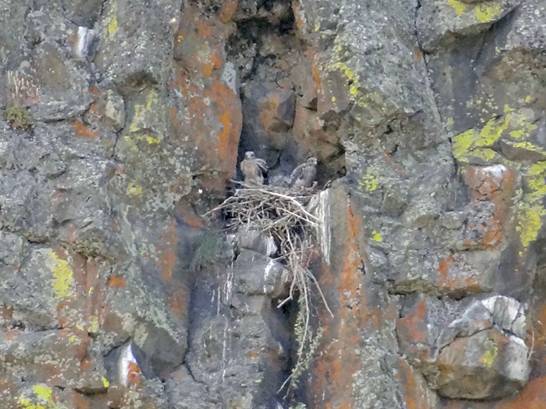 They look to me like they are only a week or two away from fledging, but I am no expert.  I wish I could have seen one of the parents bringing them food, but after about two and a half hours, I decided to call it quits and head for home.  I could have walked across the river on the pedestrian bridge there, like I had back on May 16th when I visited the same place, and walked up the trail along Umtanum Creek, but I had already seen just about anything I might have seen there, so I decided I would rather get home early and beat the traffic than walk up a trail.  There is no doubt about it; I am a dilettante birder, not a hard-core one.  A hard-core birder would have been watching the falcon nest at dawn (which comes about 5 AM at this time of year), and then walked two or three miles up the trail and seen a whole lot of other birds.
I picked up a tuna sandwich at Subway, back in Ellensburg, and I stopped at Lake Easton State Park, which I never visited before.  I found a picnic table on the edge of the lake and ate my humble lunch in the sunshine.  Here is a picture of Lake Easton from that point.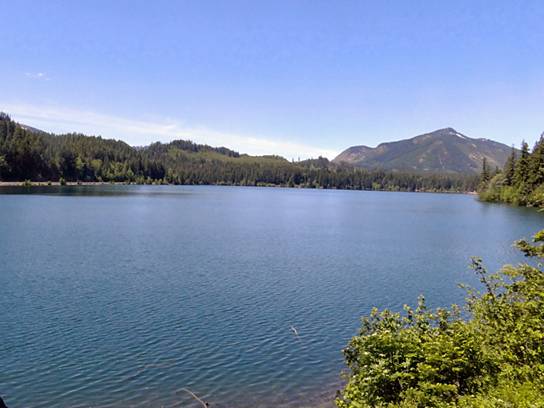 It was about a ninety minute drive from there to home, and I did manage to beat the afternoon traffic.
So, as I mentioned above, today I hit 425 species for the year, which is more than my total last year for the entire year.  104 of those have been lifers.  We leave for our annual family Yosemite adventure on Friday.  I have a few birds to look for there, and I hope to add one or two there.  I plan to visit a friend in Monterey on the way home from Yosemite, and I could possibly pick up another one or two there, if I am lucky.  It's going to be all one-at-a-time stuff from now on, other than Hawaii, although I guess I could get 4 or 5 in San Diego if I make it down there, as I hope to in early October.  I'd love to squeeze in a Las Vegas trip, too, and that could pick me up 3 or 4 more.  I'm at the point now, though, where it is going to be very tough to add many more, other than in Hawaii.
Saturday, June 16
A very brief report today, with no pictures.  Christina and I left home for Yosemite yesterday.  We had a very pleasant drive over the Cascades to Ellensburg, then through Yakima and Goldendale and down to Bend, Oregon.  A lovely 7 hour drive through beautiful scenery and perfect weather.  We have four bikes on our bike rack, on the back of the car, and so far so good with those, knock on wood.  The rack is made for four bikes, but it is also rated for 140 pounds, and our four bikes weigh about 150 pounds total.
This morning we were up and out by 8:15, heading down the road toward Klamath Falls.  We have done this trip a number of times, and we know all the places we like to stop.  I gassed up in Klamath Falls, the last of the Oregon gasoline.  California gasoline has additives in it that cut my gas mileage by 5 to 10 percent, so I try to use Oregon or Nevada gas as much as I can.  We stopped in the tiny hamlet of Adin, on highway 299, where I got a sandwich (ham and cheese, of course).  Christina had leftover Chinese food for her lunch, from our dinner last night at Chan's, in Bend.
Our lunch stop in recent years is a little roadside park called Willow Creek, north of Susanville.  While I was finishing my sandwich and chips, I played the call of a bird that is on my target list for Yosemite.  It looked like suitable habitat, but I didn't really have any expectation of seeing one.  To my surprise, after a minute or two of playing the call, I heard a response from right overhead.  There it was, a WHITE-HEADED WOODPECKER.  The only place I have ever seen that species before is in Yosemite, and then only 3 or 4 times altogether, over the years.  There turned out to be a pair of them.  They flew around in the trees overhead, pecking at the bark and sometimes drumming.  I would have tried for a picture if I had been actually birding today, but we had miles to go still, so we moved on.  That's one less bird that I can potentially add to my year list in Yosemite, but I'll still try for a picture there.  The only picture I have a White-headed Woodpecker, from last year, is pretty poor.
We stopped in Susanville for a couple of iced coffees at Starbucks, a new tradition for us, now in its second year, and then motored on in to Reno, arriving about 4:15.  It was another pleasant drive with beautiful scenery and great weather, although a little warmer than yesterday.  Tomorrow we plan to stop in Carson City for gas (at Costco) and groceries/wine (at Trader Joes), then drive on over Tioga Pass and down in to Yosemite Valley.  I expect there will be 30 to 40 family members (all related to Christina or me) for our picnic dinners, which are the high point of the trip for me.  I have some great birding places to check out, and I hope there might be a report or even two from Yosemite.
That puts me at 426 species for the year now, of which 104 are lifers.
Sunday, June 17
This morning we were up and on the road by about 8 or a little after.  We stopped in Carson City for gas at Costco and groceries at Trader Joes, as planned.  We had our lunch at Mono Lake County Park, as we usually do.  This is the weekend of their annual birding festival, so it was crowded as hell, but we got there just in time to get a reasonably decent parking place, at about 11:40 or so.
As we were getting out of our car, the people from the car in front of us called out "oriole", and I picked up Bullock's Oriole for my trip list.  I had started keeping a trip list yesterday, and through last night, I was up to 23 birds for the trip.
I grabbed a picnic table, and we ate our Trader Joe lunches first, then walked down to Mono Lake, to see what birds I could pick up.  There were a lot of Violet-green Swallows around, a bird I had seen yesterday, but I got pictures today.  Here is a Violet-green Swallow.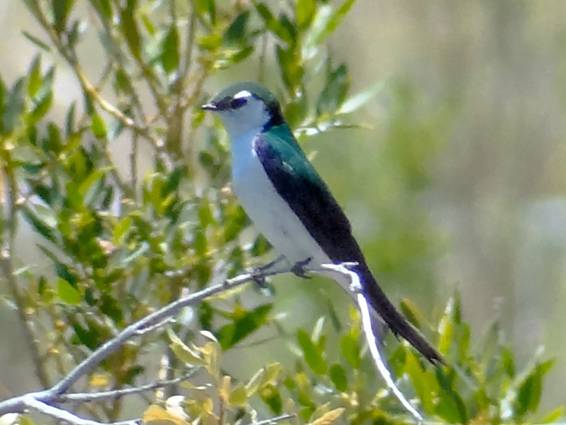 I've had better pictures, but that does show the bird.
Down at the lake there were American Avocets, a pretty bird that I was glad to add to my trip list.
On one of the islands offshore, there was an Osprey nest, and here is a picture of an Osprey sitting on the nest.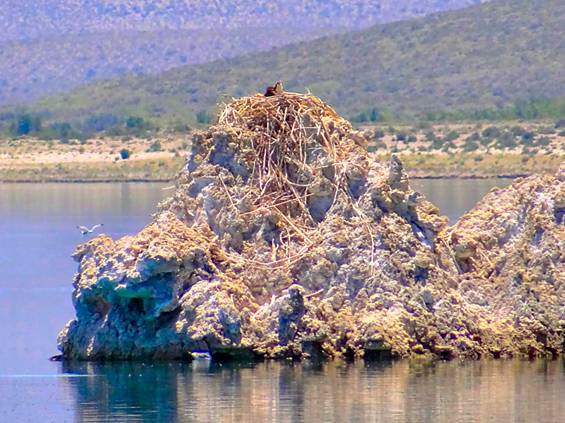 I picked up other birds for my trip list, including Eared Grebe and Common Loon.  I think the loon was unusual for this time of year at this location.  I also managed to see a couple of Wilson's Phalaropes, thanks to a couple who told me where they were.  As we left the park, I saw three American Kestrels for my trip list.
We drove up the steep road to Tioga Pass, delayed from time to time by cars towing trailers and recreational vehicles.  When we got to the park entrance, there was the usual backup, and as we moved ahead slowly, I asked Christina to keep an eye out for a high elevation species I needed for my year list.  Tenaya Pass is just over 10,000 feet.
She came through for me, as she so often does, and pointed out a bird at the top of a tree.  I got the binoculars on it, and damned if it didn't turn out to be a CLARK'S NUTCRACKER, the very bird I had asked her to watch for.  I knew they lived in that area, but I had never seen one in Yosemite before, in my 18 or 20 visits to the park over the years.  I won't see one anywhere else I plan to go this year, either, so it was really great to pick one up today.  I've only seen Clark's Nutcracker a very few times before in my life.  They are fairly common, but they live at elevations above about 8000 feet, so I don't get many chances to see them.
We had a pleasant drive down into the valley, where we are staying, and on the way I got this picture of Tenaya Lake.
We got to the Yosemite Lodge about 3:45 and our room was not only ready for us (contrary to the experiences we have had the last several years), it was the very room we had requested.  My sister, Betsy, had gotten there before us, and had arranged it all.  To top that off, the traffic in the valley was way way down from last year.  I don't know what is going on, but it seems like it is much less crowded this year, for some unknown reason.  It looks like we will have hot weather this year, which is a huge negative for me, but it also appears so far that the mosquitoes are going to be very few in number.  I emphasize the "seems" and "so far".  We will see how it all develops as the week goes on.
While Christina was getting us checked in, I got this picture of Yosemite Falls from the parking lot at the Lodge.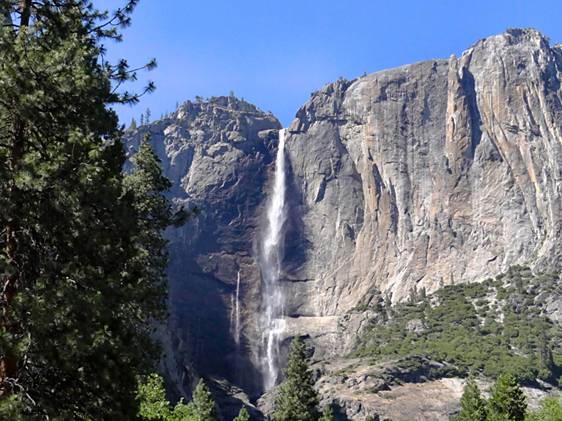 So, to my great surprise, I picked up a year bird today and now I'm at 427 species for the year, of which 104 are lifers.  My trip list stands at 33 now, and I haven't even started actually birding yet.  We'll see what else I can get this week, if anything.
Monday, June 18
Yes, another report already.  I had a really excellent day of birding today.  I was up and out of here by 8 AM, and I headed up toward Crane Flat.  My first birding stops were along the road down to the community of Foresta.  I picked up Western Bluebird and Spotted Towhee for my trip list at my first stop.  At my second stop, I was climbing around in the undergrowth on a hillside and saw a bird in a tree a little distance away.  I made my way over that direction, but I wasn't ever able to be sure what the bird was.  While doing that, I managed to poke my leg with a stick or something (I was cleverly wearing shorts) and it started to bleed.
As I was trying to stop the bleeding by holding a tissue over it, I saw a bird fly across the road and onto a log ahead of me.  It was a very interesting size, so I got my binoculars on it and let my leg bleed a little.  Yes!  It was my number one most desired bird of the trip, a MOUNTAIN QUAIL (lifer).  Last year I heard them, but I have never seen one before.  Between attempts to staunch the flow of blood from my leg, I took some pictures of the little darling, as it walked slowly back and forth on a log.  I am extremely disappointed in the pictures, unfortunately.  Some of them are motion blurred, no doubt because I was paying too much attention to my bleeding leg, and in some of them, the camera had focused on a bush in the foreground.  Here is the best of my pictures, anyway: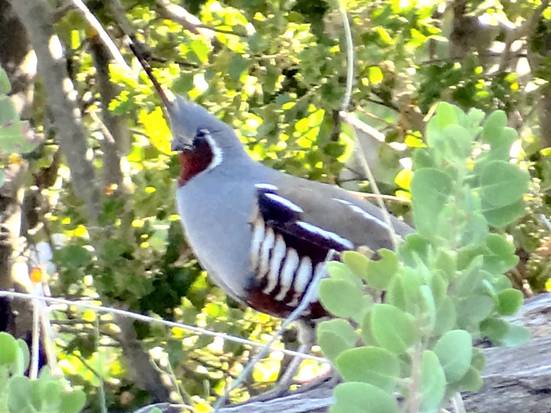 It has a nice spike on its head, which you can just barely see in that picture, if you know to look for it.
I made my way back to the car and it took me a good ten minutes of applying pressure to my leg to stop the bleeding, but it finally stopped, and I could move on.  I got blood on my sock, but it was worth it.  I was really pumped after seeing the quail, and I thought I had some good pictures as well.  Everyone says the quail are easy to hear but difficult to see, and you just have to get lucky.  I got lucky this morning.
At that point, I turned around, as the main reason I was going down that road was to attempt to see Mountain Quail.  I did pick up Black-headed Grosbeak and Western Scrub-Jay on that road, for my trip list, though.  I also saw another bird at the top of a tall tree, and I couldn't identify it at first.  I got this picture of it, from below.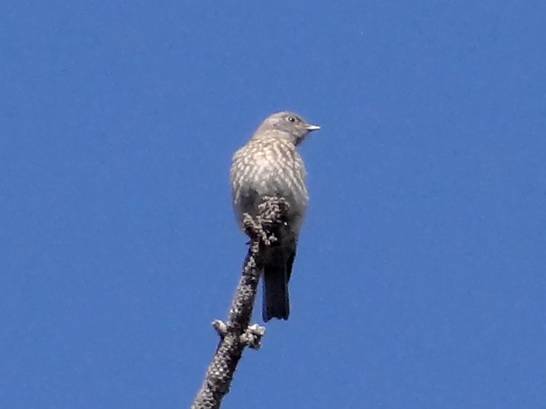 I had to dig out my field guide, and I discovered that it was a juvenile Western Bluebird.  That made sense, as it was associating with mature Western Bluebirds.  I guess I have never had a good look at an immature bluebird before.
Next I drove up the Tioga Road out of Crane Flat.  At about 4 miles I came to the road to Tamarack Campground.  There is no sign indicating that, and the only indication of what was down that road was a sign saying "Camp Full".  I had read that that road was pretty rough, but I had also read that the first part of it had been recently repaved.  Sure, enough, the first 1.9 miles was nicely paved and smooth.  It is 3 miles to the campground.  The last mile was pretty rough.
I had never been on that little road before, but I had read a post online about birds along there, so I drove along and stopped from time to time.  Based on the birds I had read about along there, I played some bird songs and calls on my cell phone.  I know that one is not supposed to play recorded bird sounds in the park, but I did it anyway.  I wouldn't play the call of an endangered bird, and I wouldn't play calls when other birders might be around, but in this location, I was willing to use that tool.
At my first stop, I picked up Red-breasted Nuthatch for my trip list, an excellent bird.  I wasn't playing that call, as I didn't need it for my year list, but it was still nice to be seeing birds and adding to my trip list.
At the next stop, I did manage to attract one of the birds I had been specifically looking for, HERMIT WARBLER.  I had only seen Hermit Warbler once before, last year in Arizona, so that was a very nice one to get for my year list. Here is a picture of the little darling.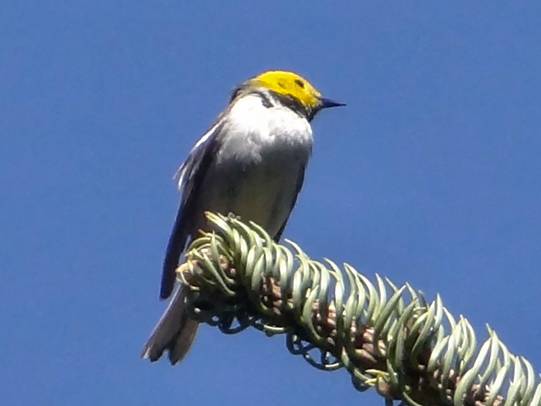 At that same stop, I added Golden-crowned Kinglet to my trip list, again without playing the call.  I normally have dismal luck in forests, but this was good birding today.
At the next stop, or maybe the one after, I got another one I had been looking for, GREEN-TAILED TOWHEE, another good one for my year list.  I hadn't even realized that they lived in Yosemite until I was researching for this trip.  I hadn't thought I would see one this year at all, as the only time I have seen them before was last year in Arizona.  Here are two pictures.  The first one shows most of the field marks, including the reddish crown.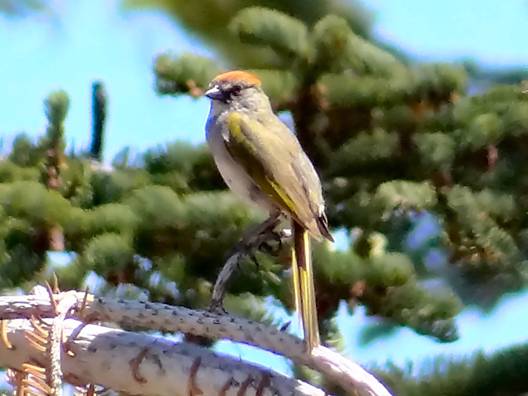 In this second one, you can see the green tail that gives the species its name.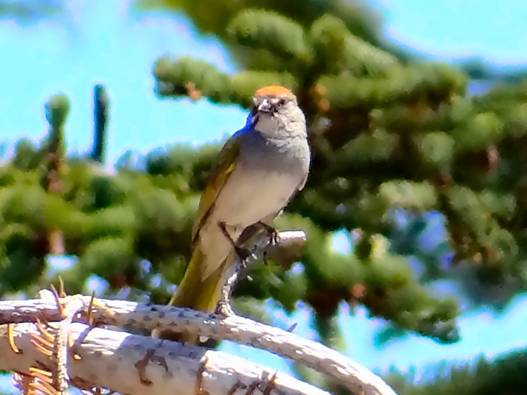 At one of the stops along the way I got Fox Sparrow for my trip list.  Here is a picture of a Fox Sparrow.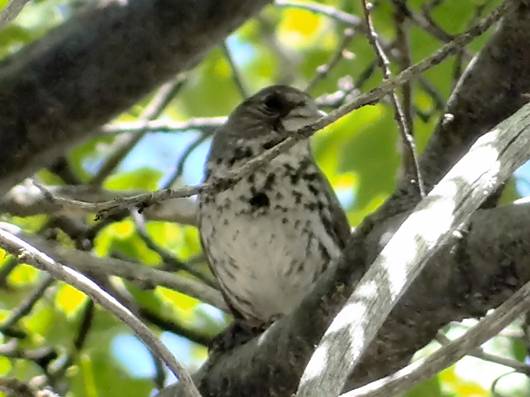 I added Yellow-rumped Warbler to my trip list at a couple of stops, and in the Tamarack Campground, I added Mountain Chickadee and Lawrence's Goldfinch, both good birds to add.  On the way out, I saw a male Western Tanager, but couldn't get a picture.
Tamarack Campground was very interesting.  There were two or three dozen very nice campsites, with at least two sets of rest rooms (waterless, but not smelly).  The sign at the road had said "Camp Full", but there wasn't a soul there.  No cars, no people, no tents, no gear – nothing at all, completely empty.  I had only seen one vehicle in the two hours I was on that road, and that was a white pickup with a ranger in it.  He drove down the road toward the campground, and then later came out again.  I don't know what is going on, but there must be a story behind it.  If they wanted to close it, there is a gate at the road.  If they want it used, then why does it say "Camp Full'?  Is that sign enough to have kept everyone away?  Wouldn't someone have gone down to check on it?  There is some mystery there.
Anyway, it was a great place to bird.  No traffic, lots of birds, very pretty habitat, temperatures in the high 60's at first, rising into the mid-70's by noon  Oh yes, I had my humble lunch at a table in the empty campground – ham and cheese, of course, made by my own hands this morning. 
I had tried repeatedly along that road for a couple of flycatchers I need for my year list, and at one point I was chasing a flycatcher, but I couldn't identify it.  As I have said several times, flycatchers are difficult to identify.  I'll be watching for them as I bird in other places around Yosemite.
I drove back down into the valley and stopped and took a few pictures of scenery.  Here is Yosemite Falls from across the meadows.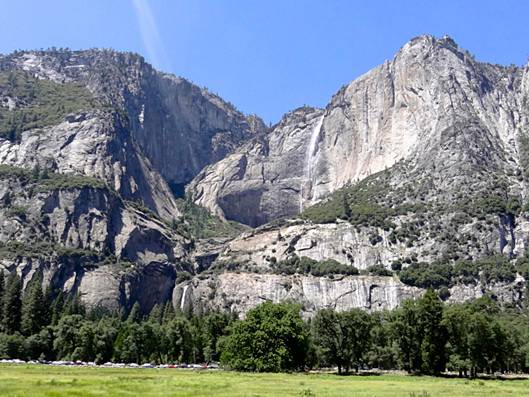 Here is Half Dome and the Merced River.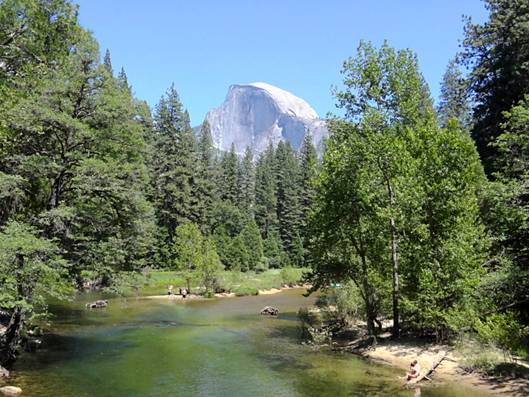 And, finally, here is a bird picture.  The Acorn Woodpecker (trip list bird) is the most common woodpecker I see in Yosemite Valley.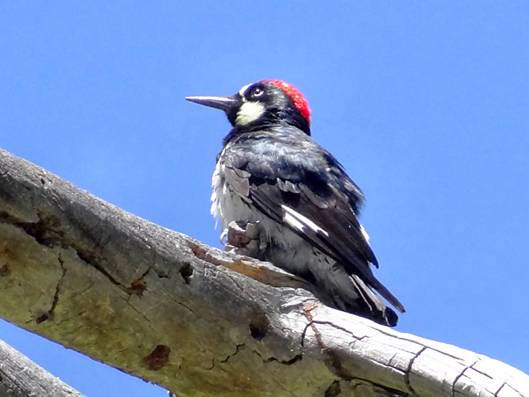 So, with the addition of three more year birds today, one of which was a lifer, I am now at 430 species for the year, of which 105 are lifers.
Tomorrow I hope to drive up the road to Glacier Point and the road to Wawona, mainly in search of a couple of lifers, both members of the woodpecker family.  Neither one is easy (that's why they would both be lifers), but I have some good directions to locations for each one of them, and I plan to search.  I hope my brother, Rick, will accompany me. 
At our picnic dinner Monday night, I picked up three more species for my trip list – Brown-headed Cowbird, Mallard, and Steller's Jay.  That makes my trip list 51.
Now I need to work some more on getting onto the internet, so I can check my email and send out these last two reports.  The wi-fi isn't working here in our room, and I hope I can connect over in the area around the front desk.  They say it is very slow over there, but at least you can connect.  I wonder how long it is going to take them to fix their internet problems here at Yosemite Lodge.  I hate being without my internet.  My cell phone doesn't have data coverage here, so I can't check my email that way either.
Tuesday, June 19
Rick and I were out of here at 8 this morning, on our quest for woodpeckers.  Our first stop was on the road to Glacier Point, where I played the calls of a couple of flycatchers I still need to get for the year, but didn't see anything there except a Northern Flicker for my trip list.
Our next stop was the trail to McGurk Meadow.  We had a nice stroll in the woods, and we heard a few birds, but didn't see any woodpeckers.  The only bird of note we saw was a pair of Mountain Chickadees, taking food into a hole in a stump.  Here is a picture of one of them.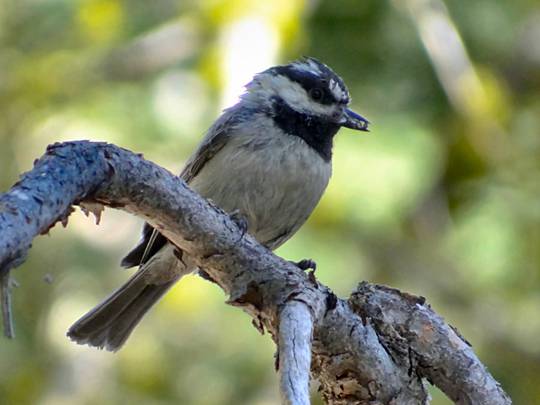 I had been playing the calls of the Black-backed Woodpecker, the bird I was looking for, and when we got back to the car, we did hear a very similar call, but didn't see any bird.  So, that little quest was unsuccessful, other than the nice walk in the woods we had.
Our next stop was the trail to Sentinel Dome.  I had instructions for a nest of another member of the woodpecker family, 0.3 miles along the trail, supposedly.  The trail ended up being rougher and steeper than I had expected, and it seemed like we went farther than 0.3 miles, too.  Here is a picture of part of that trail.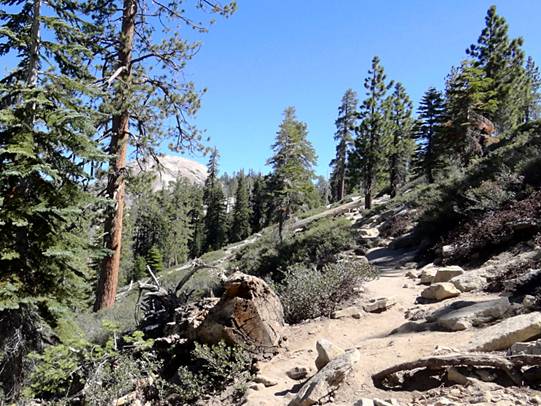 I stopped to catch my breath from time to time, as we were at an elevation of about 7500 feet.  My directions turned out to be less clear than I had thought, but when I thought we must be in the right area, I heard a bird call, and it sounded to me like it could be our bird.  I played the call on my phone, which I hadn't done up until then, and sure enough, it was exactly what I had just heard.  I turned back to Rick to tell him about it, and he saw a couple of birds fly across the trail behind my back, and they landed in a tree next to the trail.  There they were, a male and a female WILLIAMSON'S SAPSUCKER (lifer)!  They posed for pictures for a minute or two, and here is my best of the two of them.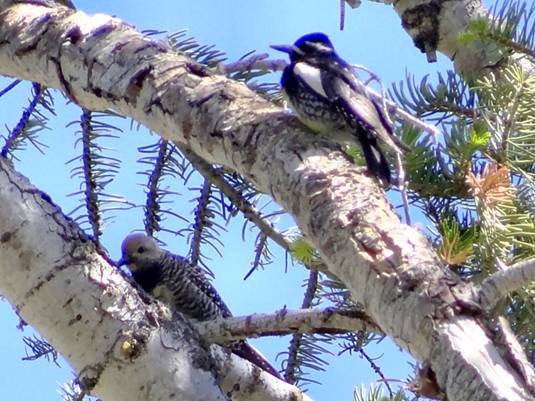 The one in the lower left is the female.  They soon flew off to a dead snag, which we thought must be the nest tree, although it didn't look like I expected from the email I had seen about it.  They continued to fly around and vocalize, and I got this picture of the female on her own.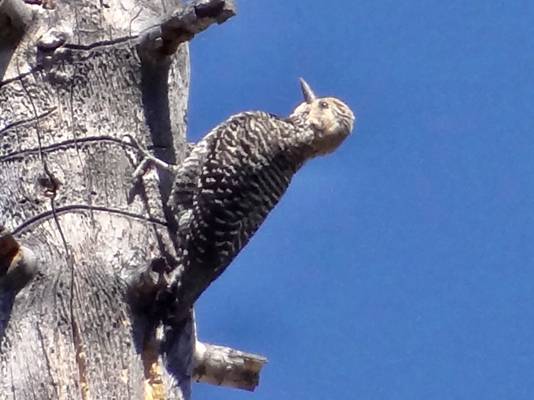 So, it had been a longer and tougher hike than either of us had bargained for, but it was well worth it for both of us, since we got our bird.  Not just one, but a pair of them, and with pictures, to boot.
It was getting on toward noon by then, so we found a great picnic table by Bridal Veil Creek and had our humble lunches in the shade, with the sound of the creek in the background.  It was a beautiful sunny day, and the woods and creek were lovely.  I had a ham and cheese sandwich, of course, with leftover ham from last night's picnic.  Tonight is BBQ beef sandwiches, and I hope to have some of that for tomorrow's lunch.
After we refreshed ourselves with lunch, our next stop was Mosquito Creek, on the way to Wawona.  This was supposed to be another place to look for woodpeckers, including the Black-backed one that I need.  We found the little trail and walked up the hill into a place where there had been a fire a year or two ago.  Woodpeckers like burned over areas, because they can find bugs under the bark of the dead trees.   Here is a picture of that burned forest, with this year's growth all green underneath.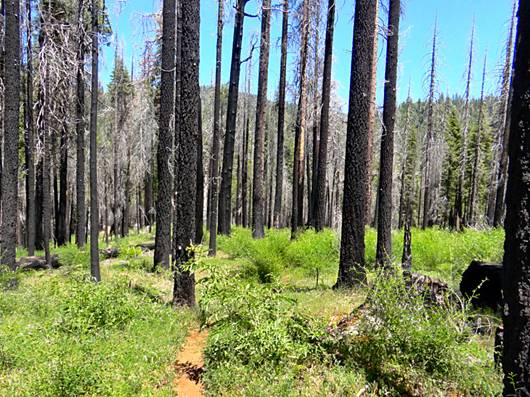 We walked a little way up the hill, but didn't see our bird or any other woodpeckers.  I did see a Black-headed Grosbeak and Rick spotted a Spotted Towhee, but I had both of those for my trip list already.
We moved on into and through Wawona, stopping on the other side at a place we had been last year.  We looked for the Great Gray Owl there again, as it supposedly sometimes roosts in a big oak tree there during the day.  Like last year, we didn't see it.  I picked up Chipping Sparrow there, for my trip list, and also a flycatcher that I decided must have been a Western Wood-Pewee, not the more desirable Olive-sided Flycatcher that I need for my year list.  I tried to get a picture of it, but my camera let me down and focused on the distance, instead of on the bird.  That's been happening a lot lately, and it makes me mad.  I have it set on Spot Focus, and it is supposed to focus on whatever is in the center of the frame, but it often lets me down and focuses on something off to the side of the center (or above it or below it).  All I got was two very blurry pictures, not even useful to try to identify the bird.
So, that was it.  I didn't see nearly as many birds today as I saw yesterday on the Tamarack Flat Road, but I did pick up another lifer, and for that, I'm thankful.
That puts me at 431 species for the year, with 106 of them lifers.  I have 56 on my trip list now, and 6 of those have added to my year list.  I'm doing quite a bit better than I expected, but it is going to be tough to add any more here, I fear.  We will see.
I can connect to the internet here in our room now, although it is pretty slow.  It took nine minutes to send the email for yesterday (Monday), with its 8 pictures.  This one only has 5, so it should go faster.  I need to go to dinner now, though, so I'll send it later this evening, or even in the morning.  This could well be your last report for a while.
Thursday, June 21
And, here is still another report from Yosemite.  Before I move on to today, I wanted to mention a few birds from yesterday, along with a few pictures.
Yesterday I stuck around the Yosemite Lodge area.  I spent the morning across the road on the trails at Lower Yosemite Falls.  I sat a lot, and I enjoyed the beautiful morning and scenery.  I got this picture of a Steller's Jay.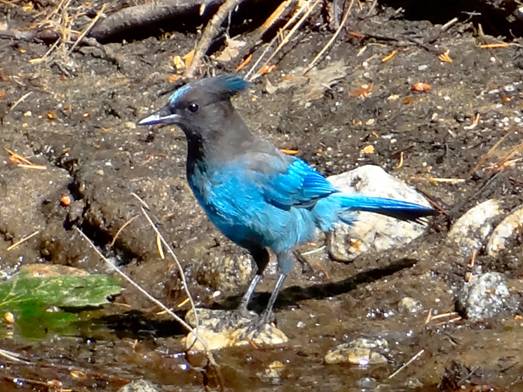 They are quite common around the Valley and also in the forest.
Here is a little deer that wandered through the place I was sitting.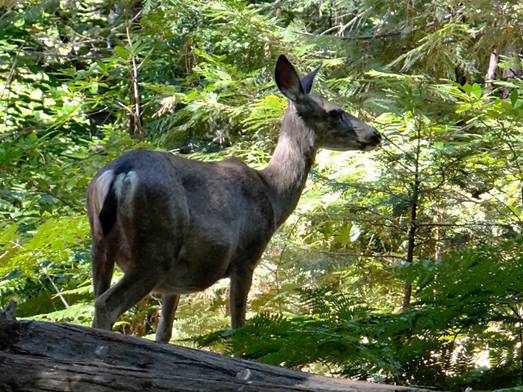 I got this picture of a very young Mallard duckling, all on its own.  There was no sign of its mother or the rest of the brood.  Ducklings feed themselves from the time they are hatched, but the mother provides a certain amount of protection for them, so I don't know if this little guy will survive or not.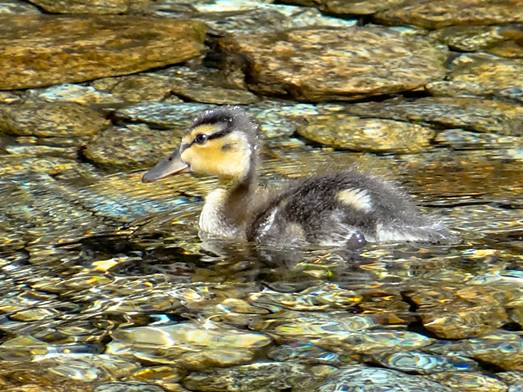 For my trip list, I picked up Song Sparrow, Anna's Hummingbird, and Cassin's Vireo, an excellent bird to see.  I got these pictures of a Western Tanager.  Some of the males have a lot more red on their heads, but it is still an attractive bird, even with less red.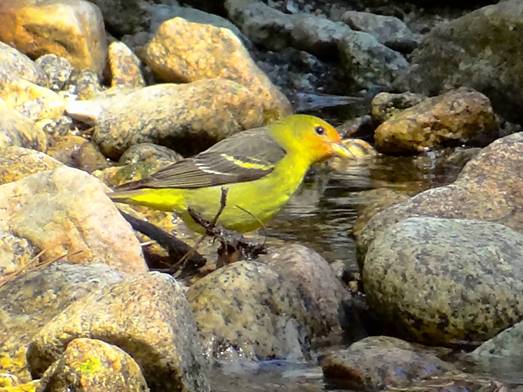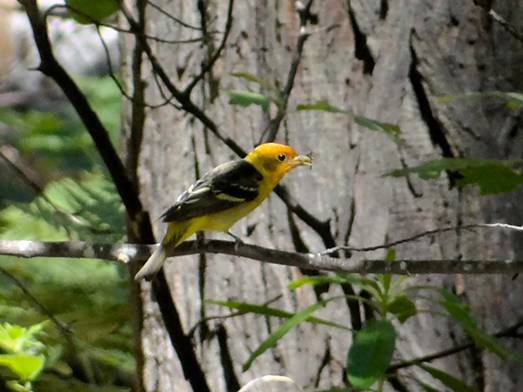 Here is another one for my trip list, Common Merganser, a female.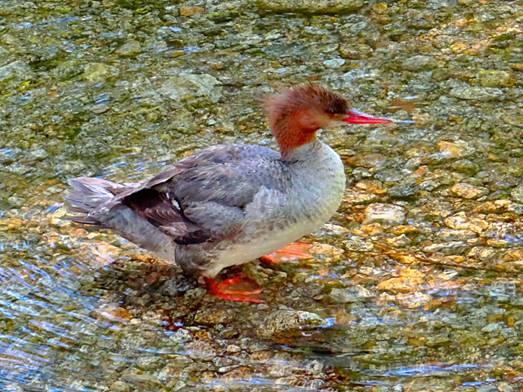 In the afternoon, I did a little bird walk with Christina's eleven year old grand-nephew, Alex, and he spotted this baby Acorn Woodpecker, peeking out of its nest hole, looking to be fed.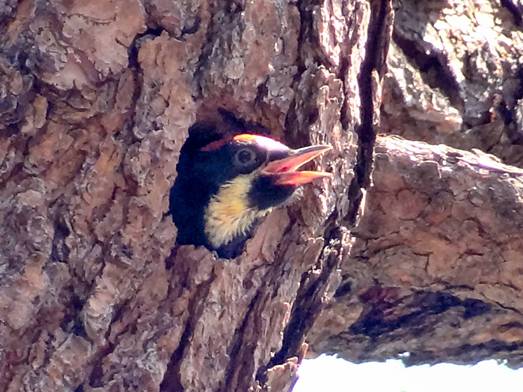 So, yesterday I got 4 birds for my trip list, but nothing new for my year list, so I didn't write a report.
Today my brother, Rick, went out with me again, and we headed up to Tamarack Flat road, where I had birded on Monday.  That was the place where the campground had a "Camp Full" sign, but it was completely empty.  Today there were a couple of park service guys there, putting up signs, so I asked them about it.  They said the campground had been completely set aside for a group of Indians (Native Americans to you politically correct readers) for two weeks.  They were from the tribe whose land this used to be, and Monday was the day they left (or, maybe it was actually Sunday).  Today there were a couple more signs for the campground, and the Camp Full sign was turned around so you couldn't read it.  There were some cars on the road today and some campers in the campground.  So, mystery solved.
Anyway, Rick and I were looking for two flycatchers that I hadn't seen on Monday.  At one of our first stops we got excellent looks at a very vocal White-breasted Nuthatch.  Nuthatches are tiny birds, but are very loud.  Here is that little darling.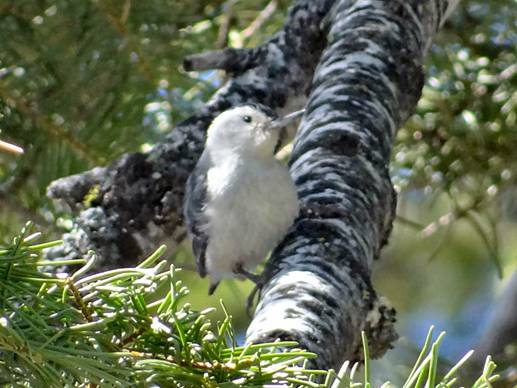 And, another view: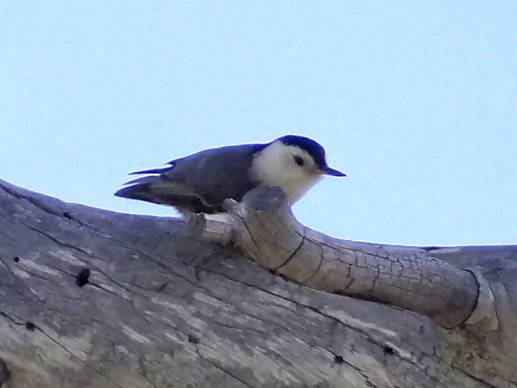 Rick was struck by a stunted pine tree that had grown up right out of a large rock, and when he went down to look at it more closely, I got this picture of Rick and his "bonsai tree".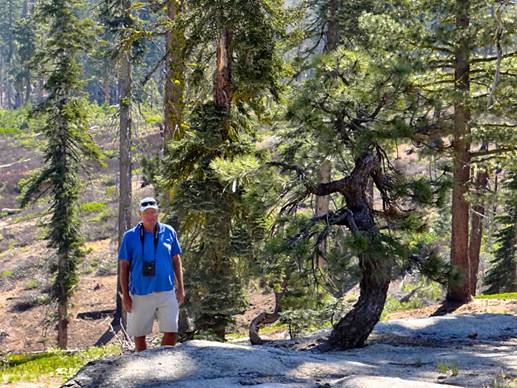 At one of our stops, we had excellent views of a White-headed Woodpecker, but I missed getting a picture.
I had been playing the calls of the two flycatchers I wanted to see, and at one of the stops, without even playing the call, I heard one calling fairly nearby.  Despite how terrible I am with bird calls, I could tell immediately that this was my bird.  We had to stalk it, but it kept calling, and eventually we got brief looks at an OLIVE-SIDED FLYCATCHER, one for my year list.  The best look I had was from right underneath the bird, and I probably wouldn't have been able to make the identification from what I could see, but I saw the bird actually make the call, and that cinched it.  There was no doubt about the call.
There was another flycatcher at one point, but I heard it call, it was definitely a Western Wood-Pewee.  I am definitely starting to get the hang of this "birding by ear" thing, although I sure do have a hard time remembering the calls for very long.  Here is a mediocre picture of the pewee as it flew off.  You can see the orange on the lower bill, as well as the dark "vest" on its breast.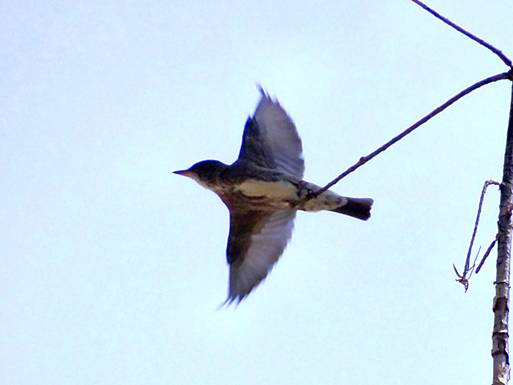 We didn't see anything else of note on that road, but it was time for lunch, so we drove on down the hill to Crane Flat Campground, to look for the Dusky Flycatcher and to eat our humble lunches.  The lunches were great (ham and cheese sandwich for me), and we did see some birds, but not the flycatcher I wanted. 
We had a lovely Red-breasted Sapsucker while we were eating, an excellent one for my trip list.  Later we heard a bird repeatedly calling very loudly, and when we tracked it down, I could see it was a Warbling Vireo, another excellent one for my trip list.  I played the song on my phone, for confirmation, and it responded repeatedly with the exact same little song.  Another bird we saw in that campground was a Golden-crowned Kinglet.  We saw lots of Dark-eyed Juncos, all day long, as well as a number of Yellow-rumped Warblers in various plumages.  Also robins and ravens, of course.
Here is a picture of a Mountain Chickadee we saw there, with some kind of food in its mouth.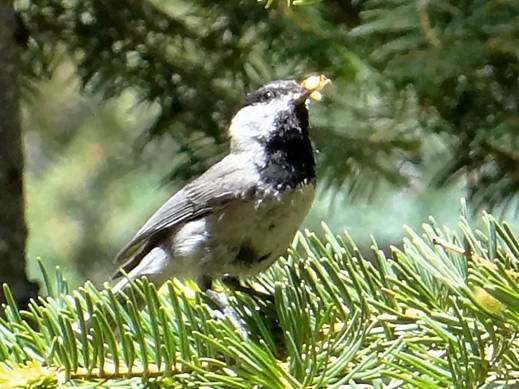 All in all, it was an excellent day.  We had fun, we saw some birds, and I picked up one more for my year list.  Perfeck!
So, now my trip list stands at 64, and I have 432 on my year list, of which 106 are lifers.  I have one more day here in Yosemite, but it is extremely unlikely I will see any more new ones, and I probably won't even do any real birding tomorrow.  I have added 7 birds on this trip now, and I would have been very happy with 5, when I left home, so it has been a big success, birding-wise.  The picnic dinners with all the family members are the real high point of the week, but the birding has been a very nice activity for me this year.
Monday, June 25
Before I move on to today's report, I wanted to do a very brief summary of the last few days of birding, along with some pictures.
On Friday I hung around close to the Yosemite Lodge and the village.  Before breakfast, I walked across the road to the area around the bottom of the lower Yosemite Falls.  I was looking for a bird that Christina had seen there the day before, and that I had seen there more than once in previous years.  I got lucky and saw a cute little American Dipper preening on a rock and then walking in the stream, sticking its head underwater to catch snails along the creek bed.  Here are a couple of pictures of the little cutie.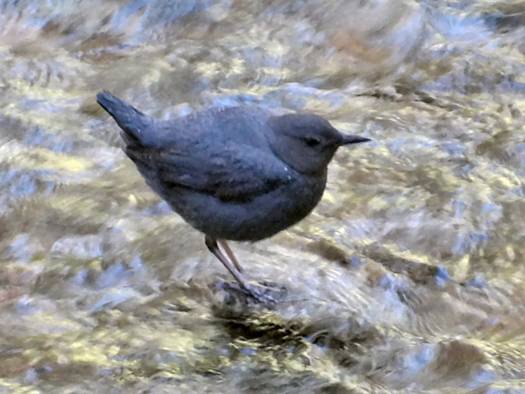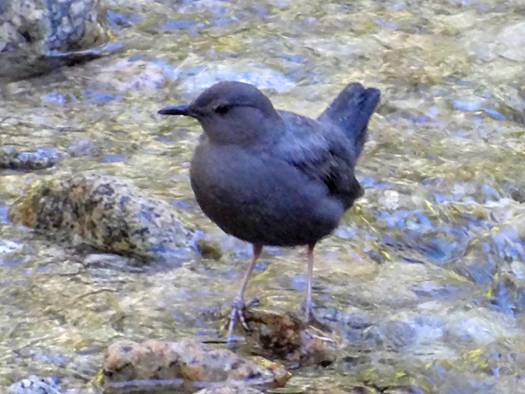 Here is one in which it has its head underwater.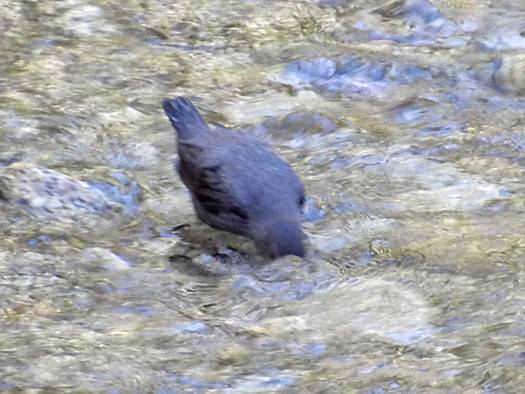 When the water is deep enough, they will completely submerge and walk along the bottom of the stream or river.  The American Dipper (formerly called Water Ouzel by the Canadians) is one of my favorite birds, so it made my day to see one.
Later I sat in the old cemetery for over an hour, just enjoying the beautiful day and the quiet.  A few birds flew through, including this cute little Brown Creeper.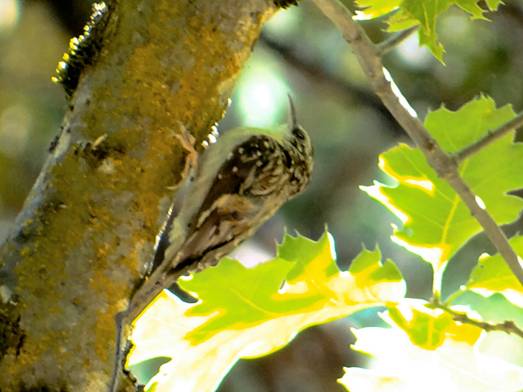 They move along the trunks and branches of trees, looking for insects in the bark.
On Saturday we left Yosemite and drove down to Kerman, near Fresno, and had lunch with some distant cousins of Christina's.  After lunch we drove up the freeway to Sacramento, where we had dinner with my friend Fred.  That day I picked up three more species for my trip list, but nothing for my year list.
We stayed at Fred's house overnight and on Sunday morning, Christina flew home to Seattle, and Fred and I went birding.  I didn't get anything more for my year list, but I got another 27 for my trip list, and we had fun, which is the main point, after all.
I got a picture I like of an American Pipit.  I think it is the first picture I have ever managed to get of this species, but if not, then it is the best one.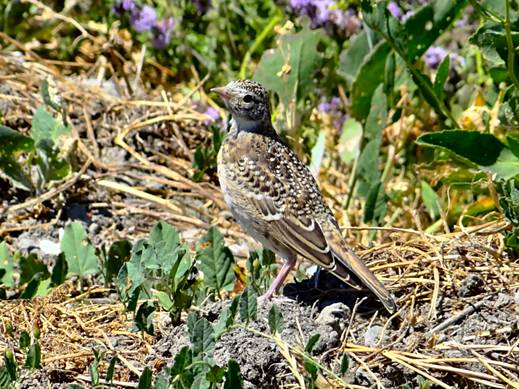 We saw that bird, and most of the others for my trip list, at the Vic Fazio Yolo Bypass Wildlife Reserve.  At one point there were some birds in a tree (either two or three of them), and I got some pictures.  Here is one of the pictures.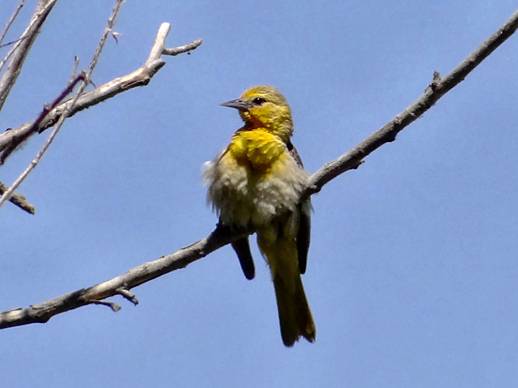 I think the bird is a female Hooded Oriole, a bird I hadn't ever seen in California before.  The bill seems a little short, but my field guide says that first year birds (that is, hatched in 2011) have a shorter bill.  We also saw three Blue Grosbeaks while at Fazio, which is excellent.
Later we stopped at a couple of places on the American River, closer to where Fred lives.  I got Green Heron and White-throated Swift at the Nimbus Fish Hatchery, and then we moved on to Ambassador Park, a place we like to go on the river.
Here is a picture of a male Bullock's Oriole, not a trip bird, but a pretty boy.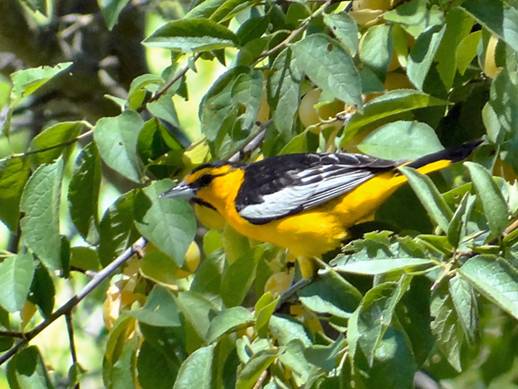 Tree Swallow is a very common bird, but I got this picture I like.  It is either a female or a young bird, as it doesn't have the blue-green color of a male, although you can see a tinge of color in back of the eye.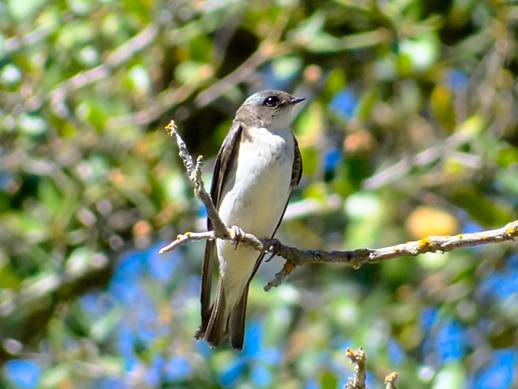 When we had been at Ambassador Park about three weeks ago, we had seen a House Wren nest, with the parents coming and going.  Well, the nest was still occupied, and the adults were bringing food to the young ones.  Here is a picture of one of the young ones with its head sticking out of the nest hole.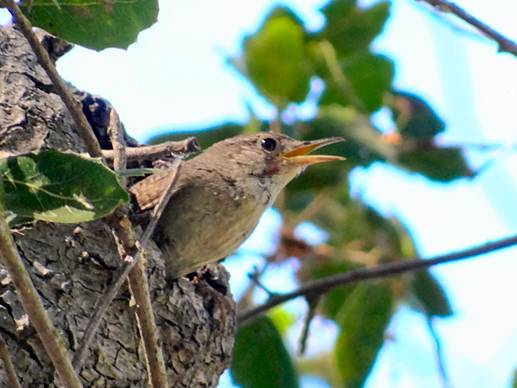 It looks pretty well grown to me, and I suspect it is very close to fledging.  In fact, I'm not sure it didn't fly out of the nest after I took this picture.  I love watching birds and taking pictures in the spring, as the birds are nesting.
We saw a couple of deer in the park, too.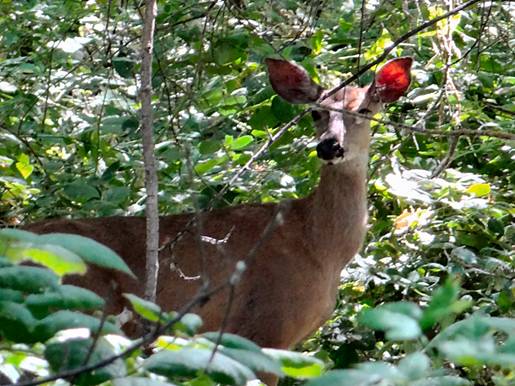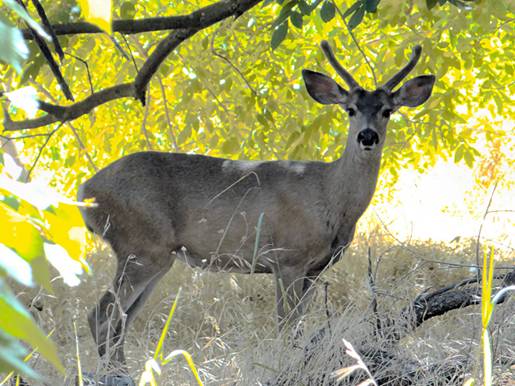 So, that was Sunday, when I added 27 to my trip list.  That brought me to 96 for the trip.
Finally we are up to today, Monday the 25th.  Today Fred, his dog Tugboat, and I headed up into the Sierras.  We went through Placerville on US Highway 50 and turned off on Ice House Road.  I had found reports on a bird I needed for my year list on a side road off Ice House Road.
So, we turned off onto Granite Springs Road and stopped three places to look and listen for birds.  I played the call and song of the bird I was looking for at each place, as well.  We didn't see anything at the first place, and at the second, I picked up Lazuli Bunting for my trip list.  Here is a distant picture of a male Lazuli Bunting singing.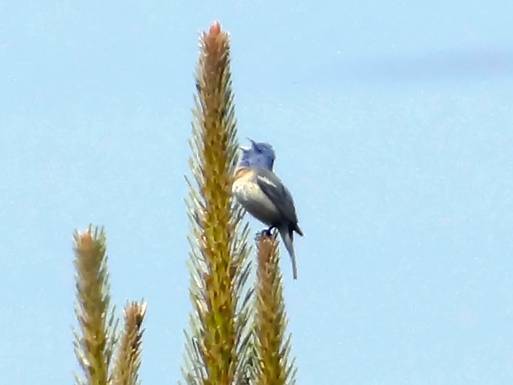 Sorry about the quality of the picture; the bird was pretty far away.
At our third stop, we saw more birds.  There was a pair of Lesser Goldfinches, for my trip list.  Most exciting, though, was a bird that flew in fairly close as I was playing the song and call of my target bird.  It was a flycatcher, and I got a good long look at it.  I decided, after going through all the possible alternatives in my mind, that is was my target, a DUSKY FLYCATCHER.  I had only seen one once before, last year in Arizona, and I don't even remember it.  I have commented many times here how difficult it is to identify some of the flycatchers, but I decided that this sighting was good enough to count.
I wanted to get a better look, though, so we hung around there.  We were rewarded with sightings of a couple of Western Tanagers, a couple of Chipping Sparrows, and at least one Yellow Warbler.  At one point a flycatcher flew right in next to us and then perched in view nearby.  I thought it was another Dusky Flycatcher, but it turned out to be a Western Wood-Pewee, a bird I have seen several times on the trip.  There is a close resemblance to the Dusky Flycatcher, but there are some distinct differences, which I could see.  Seeing that pewee made me feel worse about my call of the Dusky Flycatcher a few minutes before.
But, then a little later, another bird flew in while I was playing the call and song of the Dusky Flycatcher, and it behaved very differently.  It was flitting around in the undergrowth, and finally showed itself.  This one was also a flycatcher, but it was definitely not the pewee we had seen a few minutes before.  It had a distinct eye ring, a rounded head, muted wing bars, a long thin tail.  It was my Dusky Flycatcher, I believe.  I even got a couple of mediocre pictures of it, and here is one of them that shows the eye ring.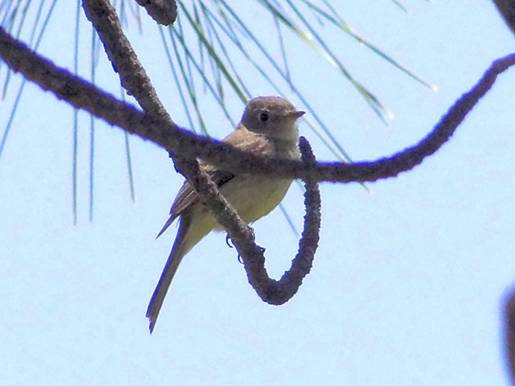 I believe that is a Dusky Flycatcher, so I'm counting it as such.
So, having seen my target bird for the day, we drove on to Loon Lake, a beautiful lake at the end of the road, which Fred wanted to visit as he has camped there and has good memories of it.  One of his beloved Golden Retrievers is buried there, too, and we visited his gravesite.  Here is a picture of Loon Lake, at about 6400 feet in the Sierras.
Tugboat had a little swim in the lake, and we headed for home.
So, now I have gotten 8 birds on the trip, for my year list.  That is outstanding, and it puts me at 433 for the year, of which 106 are lifers.  It also puts me at exactly 100 for the trip.  I plan to head for home tomorrow, and I'm debating with myself about whether to just boogie on up I-5 for the two day drive home, or whether to take three or four days and go up the coast.  I love the ocean, and there are one or two birds I could see on that drive, for my year list.  Mostly, though, I would enjoy seeing the ocean.  I need to check the weather forecasts along the way before deciding which route to take home.
So, that is my story for today.  This is most likely the last report there will be for a while, but it seems like I keep saying that, and then I get another bird, so we will see.  What a life!