Click here to return to 2012 Birding Reports: http://www.barry15.com/2012_Birding_Reports
Wednesday, October 3
To my surprise, I have another report from my Southern California trip.† On Wednesday I drove my rental car back down to San Diego from Orange county, to fly home.† Since I had extra time, I decided to visit Fort Rosecrans National Cemetery at Point Loma again, since there had been a number of reports of good migrants from there.† I had hopes that I would find some birders who might be able to steer me to the parts of the cemetery where the birding was good or where some of the unusual birds had been seen.† I wasnít really hoping for anything new for my year list, but I thought I might get some pictures.
On the way there I had to go right past Point Loma Nazarene University, so I stopped briefly to look for parrots there, but saw nothing.† At the cemetery, I drove slowly through it and soon spotted a group of six people with binoculars and cameras.† Aha, I thought Ė birders.
There were three local birders and three from Borrego Springs, which is out at the edge of the desert, where I had been last week.† They were heading to the place where an Ovenbird, a type of warbler, had been seen a number of times recently, and they invited me to tag along.† I got a very quick look at an Ovenbird in San Diego last year (my lifer bird) and then this year I had briefly seen one in Texas, under poor lighting conditions.† I thought a picture would be great, as well as a better look at one, so I joined them.
As we walked, we exchanged birding stories.† ďOh, yes, I saw that one down in Texas.Ē† ďOh, where did you go in Texas?Ē† ďDid you see Tropical Parula there?† Thatís one that I need.Ē† Etc.† Part of the fun of meeting other birders is exchanging birding stories.
When we got to the Ovenbird location, it wasnít in evidence, and we never did see it.† There were a couple of flycatchers there, and I think that this one was a Pacific-slope Flycatcher: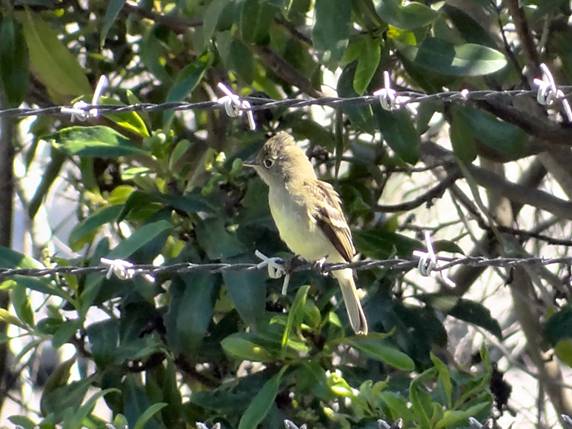 As I have said before, flycatchers can be tough to identify, and Iím slowly learning.† I thought this one was a Pacific-slope before the more expert birders there said the same thing, so that made me feel good.
There were a few other common birds, and then we looked at a kingbird that landed on a headstone nearby.† I took some pictures because the light was good, I thought.† Here is the best picture: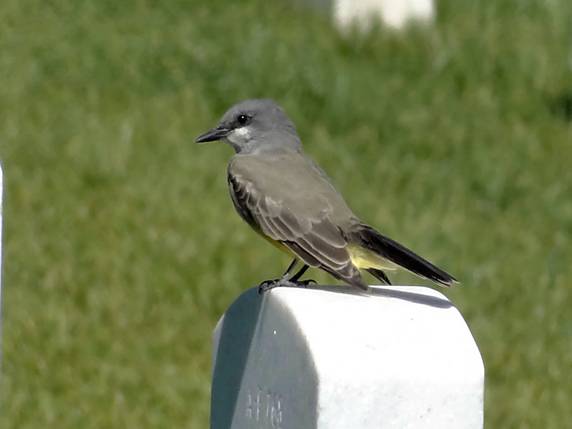 I assumed it was a Cassinís Kingbird, the common one in San Diego at this time of year.† Indeed it was, but I guess there was another kingbird on another headstone not far away, and several of the expert local birders said they thought it was another rarer species of kingbird that looks very similar to Cassinís.† I didnít see the second one before it flew off, unfortunately, because it would have been a lifer for me.
They pointed out where it had flown, and it was back near where my car was parked, so I left them and trudged back to my car.† No sign of any kingbirds in that area, though, and I needed to take a leak anyway, so I went off and did that.
After that, I drove around the cemetery some more, and I came upon the same group of birders again.† They told me that they had seen what they assumed was the same rare kingbird again, and had watched it for ten minutes.† Damn.† The story of birding ďYou shoulda been here yesterday.Ē
A couple of them showed me where they had seen it and suggested that it might return.† About then, we all saw a kingbird and they thought it was the rare one.† Since the two kingbird species look very similar and I had never seen the rare one, I couldnít really tell, but I was looking at the field marks they were pointing out Ė a longer bill and more yellow underneath were the main two things they mentioned.† They moved on with the rest of their group, and I stuck around and got more pictures, both of the possible rare one and another one that looked like a Cassinís to me.
I was pretty sure by the time I left there, but after looking at my pictures, Iím quite sure that I saw a TROPICAL KINGBIRD (lifer).† Here is a picture of a common Cassinís Kingbird, I think: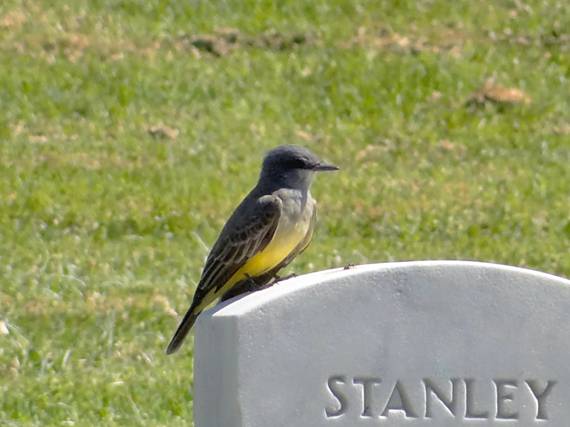 Note the bill length and the gray color to the upper breast, under the whitish throat.
Here is the Tropical Kingbird, I believe: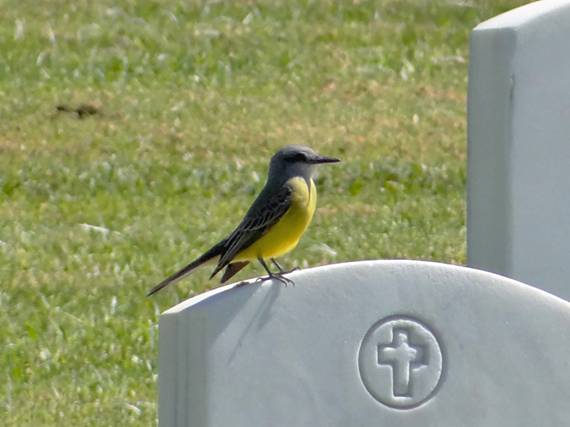 Note the longer bill and the yellow color to the upper breast, right up to the whitish throat.† To help the comparison, here they are side by side: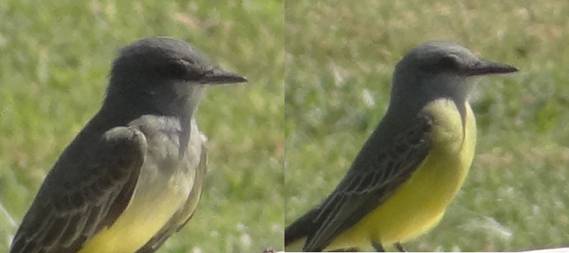 Longer bill Ė check.† Yellow upper breast Ė check.† The bill length was hard for me to see in the field, but it is obvious in the pictures.† The yellow upper breast seems like a better field mark to look for when birding.† Here is a picture of a Cassinís that I took last week down in the Tijuana River Valley: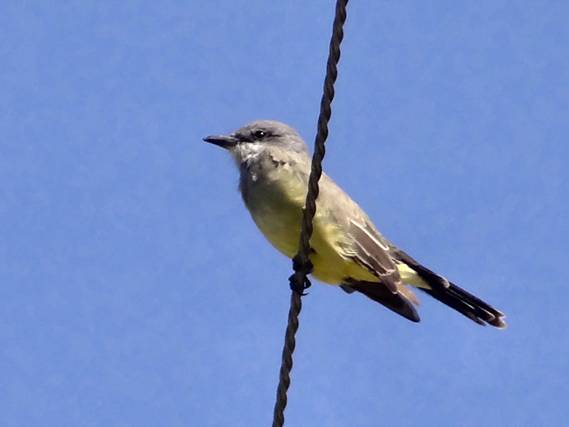 The bill length is not so obvious to me (although I can see that it is shorter than the Tropicalís), but the gray upper breast is easy to see, when you know what you are looking for.
Finally, just because it was a lifer for me, here is another picture of the Tropical Kingbird, from a little closer:
The Tropical Kingbird isnít really rare, but the only places it normally is seen in the US is in the southwest corner of Arizona and the extreme southern tip of Texas.† Itís range is mostly in Mexico.† They do show up in San Diego most winters, though, and there had been reports of one at the cemetery earlier in the week, so everyone is assuming that this bird is the same one.† It might hang around all winter, I understand, and lots of birders will be looking for it, no doubt.† I was in exactly the right place at exactly the right time.
So, that was excellent Ė a lifer when I wasnít expecting anything at all for the day.† I ate my lunch in my car there in the cemetery (Subway ham and cheese sandwich, with double ham and I only ate half the bread Ė no chips or cookies).† Here is a picture of a Savannah Sparrow that I saw while eating my lunch: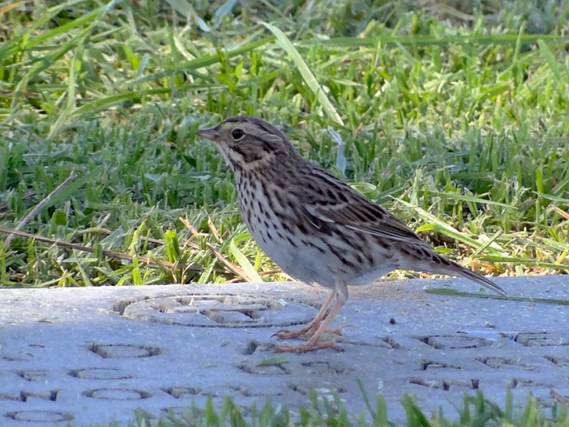 I stopped again at the university, but there still werenít any parrots around.† I headed for the airport early, and there is only one more little story to tell.
I needed to get gas before I turned in my rental car, and I only knew of one gas station anywhere near the airport.† I figured the price would be high, so I was looking for a station as I approached.† I saw a USA station, and their prices are usually good, so I almost turned in to it.† At the last second, I noticed that regular was 4.33 a gallon.† I had paid as low as 3.99 out in the desert, and most of the San Diego stations had been 4.29 or sometimes less, so I skipped it.† I never saw another station until I got to the airport, so I was kicking myself, but I figured I would pay the higher price at the one near the rental car return places.† I only needed about 12 gallons, and how much more could it be?† Maybe 4.39?† Big deal.† 4.49?† Well, I would hate to pay that much, but it would be less than 2 bucks more than the USA station I had passed up, so I would just consider that passing up the USA station was a two dollar mistake.† I could live with that.† But, when I got to the station by the airport, it wasnít 4.49.† It wasnít even 4.59.† They wanted 4.69 a gallon!† I was outraged.† I had plenty of time, so I drove on by and circled around.† I ended up going all the way around the airport without seeing another gas station, almost back to the USA station, and just before I got to it, I saw a 7-11 store with regular for 4.23 a gallon.† That was more like it.† I cut across two lanes and filled up there.† It was a twenty minute delay, and it only saved me about 5 or 6 bucks, but it was worth it for the principle of the thing.† The owner of the Shell station by the airport must be really raking in the money, as both times I went by there, all six pumps were being used.† He has every right to charge whatever he wants, but I had the time, and I just wasnít willing to go along with the game.† My mother would have been proud of me, I know.
So, I ended up seeing 20 species for my year list while on the trip, when I had expected to see only about 13.† Six of those 20 were lifers, which also exceeded my expectations.† Iím now at 461 for the year, of which 112 are lifers.
As a footnote, I actually lost weight while on the trip, which is exceptional.† I normally gain weight while traveling and lose it again when I get home, but I tried something different this time, eating very low carbohydrates for most of the trip.† I ate more calories than when Iím at home, Iím sure, and I drank more every night than I do at home, but the combination of cutting out almost all the carbs (except vegetables) and the additional exercise I get while traveling must have done the trick.
Iím planning to be at home for three weeks now, before heading out for Hawaii, although I might do some Washington State birding in that time.† What a life!
Sunday, October 28
Well, Iím off on a 17 day adventure to Hawaii, in pursuit of birds and fun.† Before I get into todayís official report, though, I wanted to share a couple of pictures I took at home yesterday.
While I was making my breakfast, Christina exclaimed that a hawk had gotten a pigeon again.† It has happened before a couple of times, but not when I was at home.† Sure enough, there in the driveway was a little hawk and a lot of feathers.† The hawk was chowing down on the pigeon and looking around in between bites,
I got my camera and got some pictures.† It was a gloomy day, and there wasnít much light, but I got a couple of pictures that I like.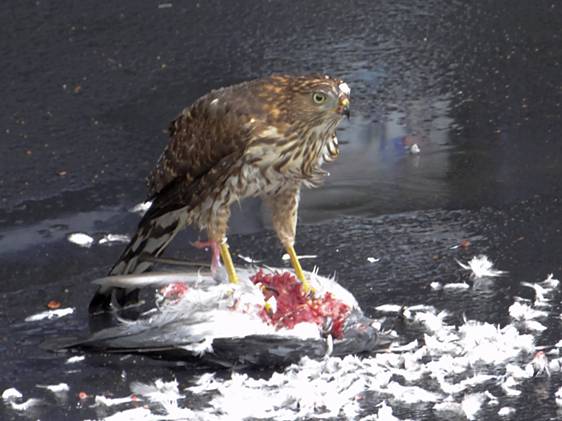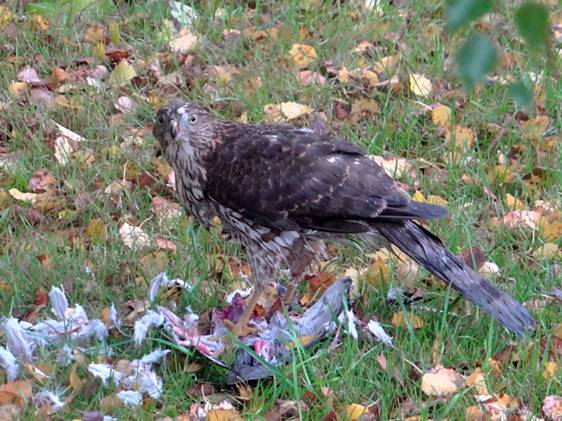 It was definitely an accipiter, and the two members of that family look very similar.† Sharp-shinned Hawks are smaller than Cooperís Hawk, but in both species, the females are quite a bit larger than the males.† As a result, a male Cooperís Hawk is about the same size as a female Sharp-shinned Hawk.† There are some subtle differences in plumage, and it seemed to me like there were contradictory indications with this bird.† I decided that the squared off bottom edges of the tail and the thin white terminal band on the tail indicated it was a Sharp-shinned Hawk, and because of the size, a female.† It was also a juvenile, based on the streaks on the breast. †(In a mature bird, the streaks go across, rather than down the length of the body.)
So, to todayís report.† I had a good flight to Honolulu (as good as it can be in a packed 737 in coach with someone next to me).† My cousin Bruse met me at the airport, and we stopped at Costco and Safeway for provisions.
I picked up the two local common dove species for my year list in the Costco parking lot Ė SPOTTED DOVE and ZEBRA DOVE.† Later from the car I picked up COMMON MYNA for my year list.† So, I added three to my year list today, but no Hawaii pictures yet, because I havenít really started birding yet.† That brings me to 464 species for the year, of which 112 are lifers.† I have five species for my Hawaii trip list, which includes Feral Pigeon and Cattle Egret now, as well as the three for my year list.
More to come.
Monday, October 29
I slept pretty well last night and was up by about 7 this morning (10 am Seattle time Ė I was glad to be able to sleep so late).† I picked up PACIFIC GOLDEN PLOVER for my year list from Bruseís balcony before breakfast.† I had some eggs, turkey sausage, havarti cheese, and Greek yogurt for my brekkie, and Bruse and I hit the road about 10 AM to look for birds and drive around the south end of the island.
Our first stop was Kuliouou Valley, and we hiked up the valley trail for fifteen or twenty minutes, looking and listening for birds.† There were a lot of RED-VENTED BULBULS near the start of the trail, but I didnít take the time to get any pictures.† I saw several JAPANESE WHITE-EYES along the trail, a common bird here, but one for my year list.† At one point there were a lot of birds calling, and I determined that they were White-rumped Shamas, a bird I need, but I never saw one, so Iím not counting it, since I only count birds I see, not ones I hear only.† We ended up being almost an hour on that trail, with the stops.
Back in the car, on the way back down the valley to the highway, I picked up my first JAVA SPARROW of the trip, sitting on a wire.† There was a House Sparrow nearby, too, for my trip list.† I had seen House Finch a little earlier, too.
We stopped along the coast to look for seabirds, but all I got there was this picture of the coastline, looking very pretty in the sunshine.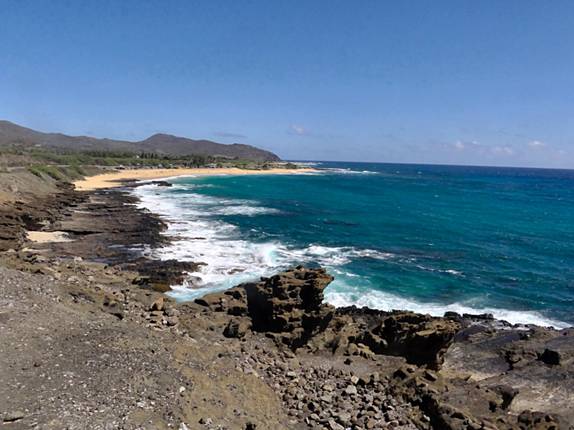 Our next stop was Sandy Beach Park, to use the rest room there.† I picked up COMMON WAXWING there, a bird I saw a couple more times later in the day, but so far this year, I havenít gotten a picture of one.† I also saw my first RED-CRESTED CARDINAL of the trip there.† I did get a picture there of the very common Zebra Dove, which we saw everywhere today.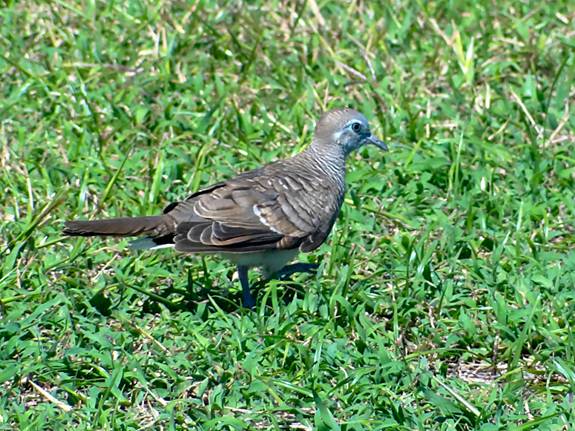 From there we moved on to Makapuu Point, where there is a scenic overlook of a pretty bay and some offshore islands that birds nest on.† I think the nesting season is over now, though.† I soon picked up RED-FOOTED BOOBY from there.† Here is a picture of one.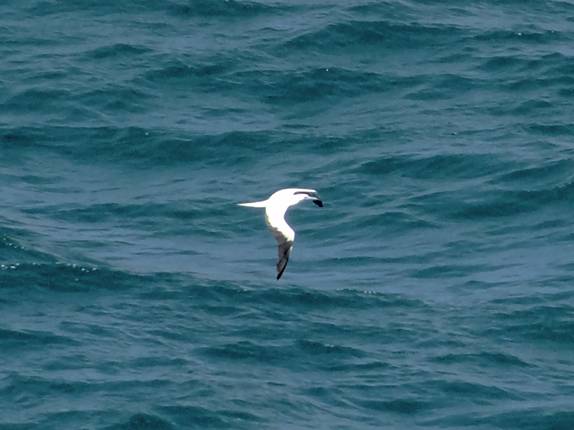 Here is the view looking north from the point.† Note the paraglider a little above and to the left of the middle of the picture.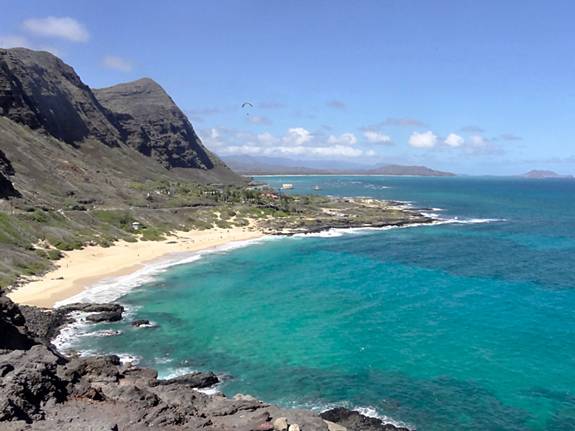 It was interesting to watch the paragliders taking advantage of the winds along the coast.† The one that was up there when we arrived was still soaring around over an hour later when we left.† Here is a picture of him: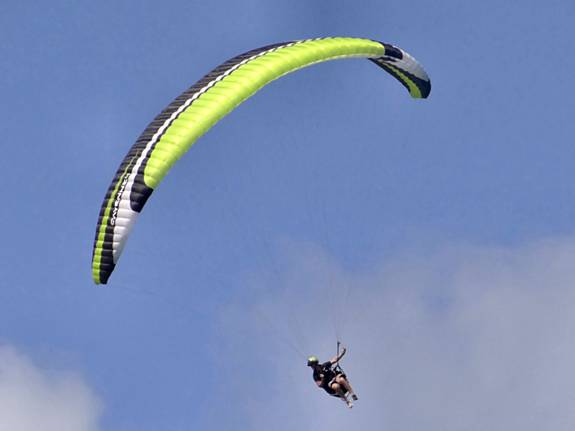 Later two people took off together.† Here they are aloft: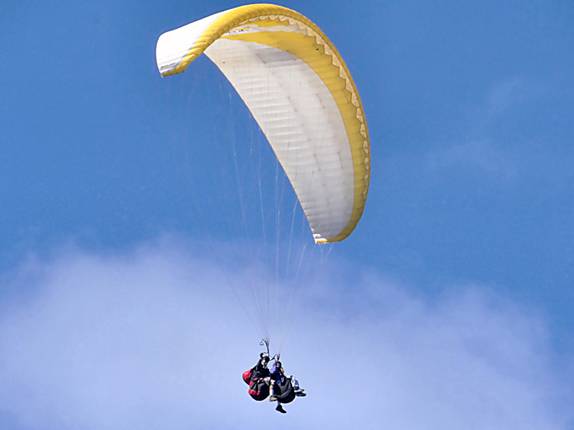 And a close-up picture of them: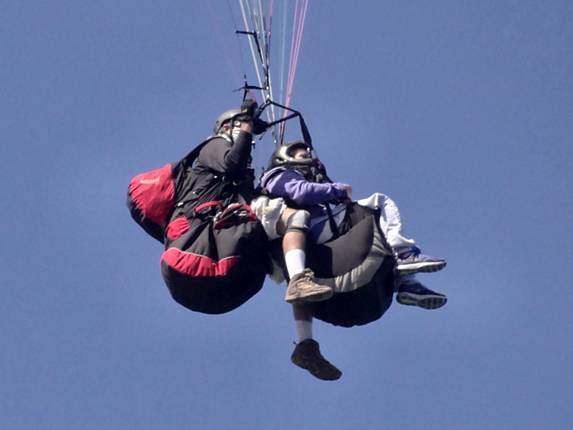 Here is a picture of two of the paragliders, and it gives a good perspective of the area where they were soaring around: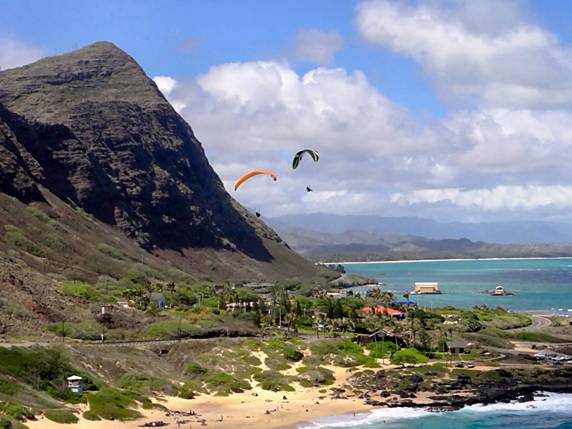 While were standing there at the lookout point, I spotted a bird coming toward us.† I could tell right away that it was something different, and it turned out to be one that I had been hoping to see today, but hadnít really expected to see.† Here are a couple of pictures of a GREAT FRIGATEBIRD, a great one to get for my year list.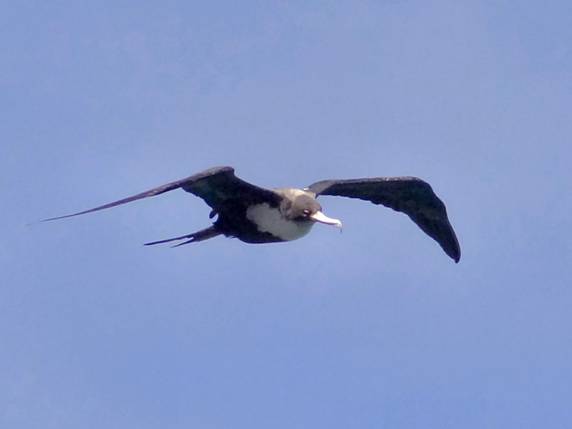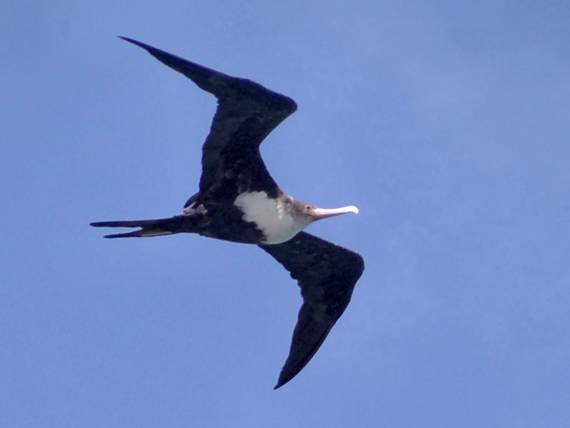 As you can tell, it flew right over us and gave us a great view.† Then it flew away and we never saw it again.
Finally we left Makapuu Point and had our humble lunch at Waimanalo Beach Park.† We had ham and cheese roll ups, with some carrots and sugar snap peas.† The Costco ham and the Costco Havarti cheese were both excellent.
After lunch we were heading for Windward Community College, to look for a bird I saw there last year, but on the way we took a little detour up Kapaa Quarry Road.† It was a nice alternate route, but I didnít expect to see anything different along it.† As it turned out, as we passed the dump that is along that road, there was an open field on the right, with tables and a parking lot.† I saw a flock of small birds, so we turned around and went back.† I picked up Black-crowned Night-Heron for my trip list while doing that, and at the open field, which turned out to be a model airplane field, I did see a number of birds out in the fields.
Most were ones I had seen already, like Golden-Plovers, Red-crested Cardinals, and the every-present Zebra Doves, but there was one flock of small birds feeding in the grass that looked different to me.† I approached them, alternating between binocular looks and taking pictures, and they turned out to be RED AVADAVATS, a species I have only seen once before, on Kauai last year in a cemetery.† Here is a picture of a male.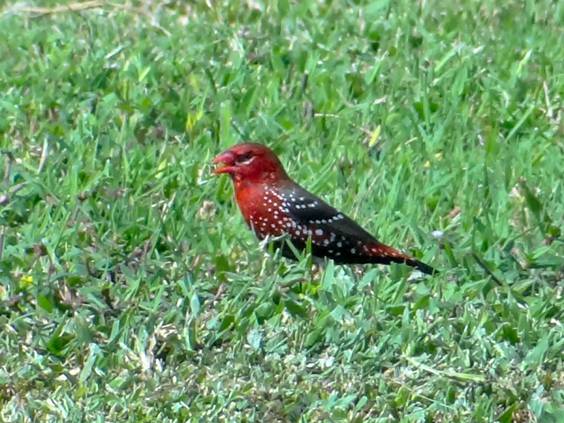 Here is a picture that shows a red male and the more sober colored female.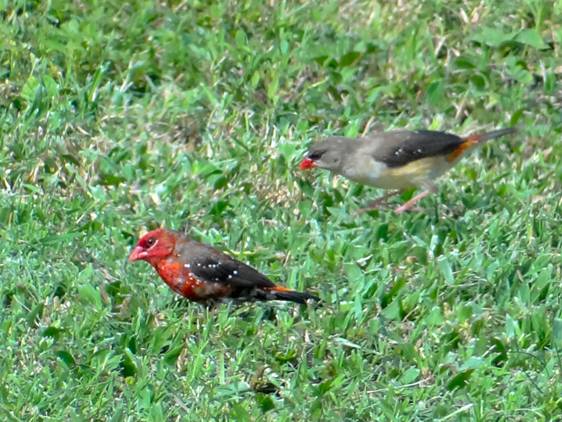 I hadnít really expected to see Red Avadavats on this trip, so this was a very nice surprise.† I had only had the Great Frigatebird at a 40% probability in my spreadsheet, but Red Avadavat was only at 20%, so I guess it was the bird of the day.† The frigatebird was more impressive, though.
When we got to Windward Community College, we drove around and looked for little birds in the grass.† For a long time we didnít see anything, but eventually, I did spot a little flock or four birds, and they were the ones I was looking for Ė CHESTNUT MUNIA.† Here is a picture of one of those little guys: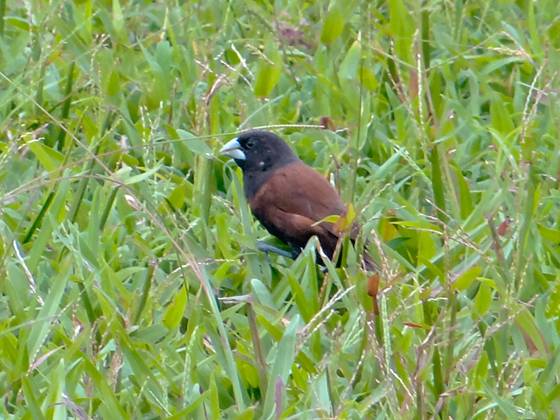 Our last stop of the day was a really nice botanical garden, called Hoomaluhia Botanical Garden.† I hadnít been there before, and it was really big and very nice.† On our way into the park, I picked up the other bulbul, RED-WHISKERED BULBUL.† No pictures, as they were up too high.† While driving though the park, Bruse spotted a mongoose.† Here is a picture.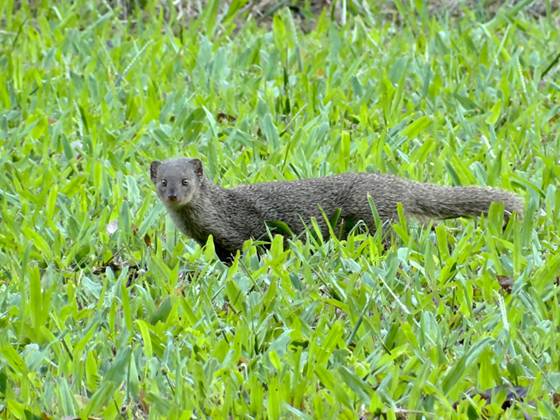 Mongooses are native to India and maybe other parts of Asia.† They were brought here to wipe out rats in the sugar cane fields, I think, and now they are a huge pest here.† They have wiped out any ground nesting birds, for example.
We saw Pacific Golden-Plovers a lot of places today, but I got this picture at the gardens.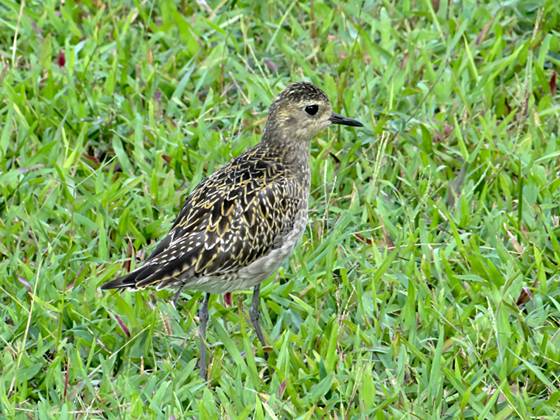 Pacific Golden-Plovers fly to the arctic in the spring to breed, and then after breeding season, they fly back here across the ocean for the winter.† It is amazing to think that this bird was in Northern Canada or Alaska a couple of months ago.
So, that was my birding for the day.† I picked up 11 more species for my year list today, and 14 for my trip list.† That brings me to 475 species for the year, of which 112 have been lifers.† My trip list stands at 19 now.
Back here at Bruseís condo, we had our Mai Tais and nuts, and then had a nice dinner of chicken meatballs and stir fry vegetables, courtesy of Costco.
So, that is my report for today.
Tuesday, October 30
Today was another beautiful day in paradise.† I was up about 7:30 after a good nightís sleep, and I had eggs, turkey sausage, cheese, and Greek yogurt again for brekkie.† Bruse had things to take care of this morning, so he dropped me off at Kapiolani Park and I had a pleasant three and a half hours of birding and sitting, watching the people along the beach.
I had four target species there today, and I ended up getting three of them.† Almost as soon as I arrived, I saw a parrot-like bird fly over, so I counted the most common parrot that lives there, ROSE-RINGED PARAKEET, although I didnít really get a good enough look to exclude other species of parrot.† Later I saw a number of Rose-ringed Parrots, though, and Iíll have pictures later in this report.
I was at the end of the park where the tennis courts are, and the old archery range, which is now closed.† I walked along the border of the park, looking for a particular species I had seen there last year.† Eventually, I found one, a female WHITE-RUMPED SHAMA.† I was particularly glad to see it, because this is the only island here in Hawaii that they are found on, and I donít plan to visit any other places where they are likely to be.† I had heard them yesterday, in the Kuliouou Valley, but never saw one.† The only picture I got today is much too motion-blurred to show.
There were a lot of Red-vented Bulbuls around, especially behind the tennis courts.† It was hard to get good pictures of them, but here are my two best efforts.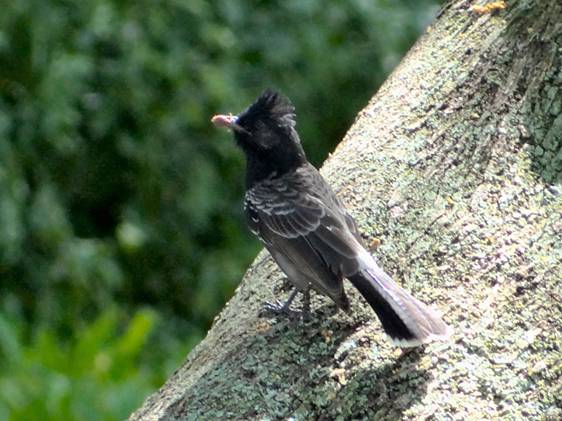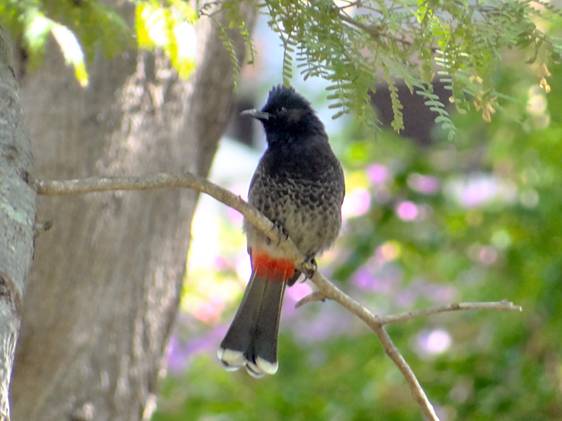 There were also some Java Sparrows on the rock wall at the border of the park, and here is a picture of a couple of them.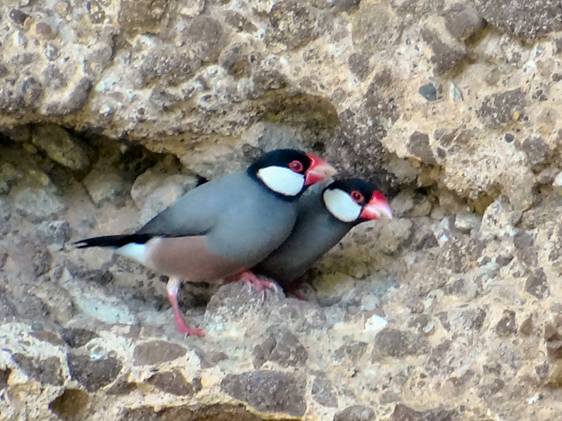 Later I saw others, and I got a picture I like of one that caught it just as it hopped.† I call the picture Jumpiní Java Sparrow.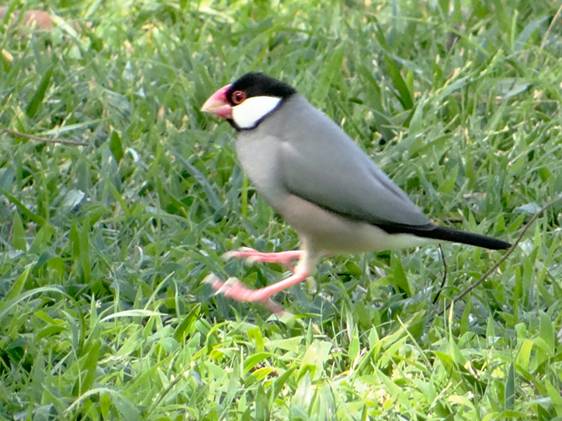 Too bad about the motion-blurring of its feet.
I walked across the park, stopping to sit in the shade from time to time.† There were little flocks of Common Waxbills, but I didnít really try for pictures of those tiny birds.† I also picked up my third target species, YELLOW-FRONTED CANARY.† Here is my best picture of one those, taken a little later on in the day.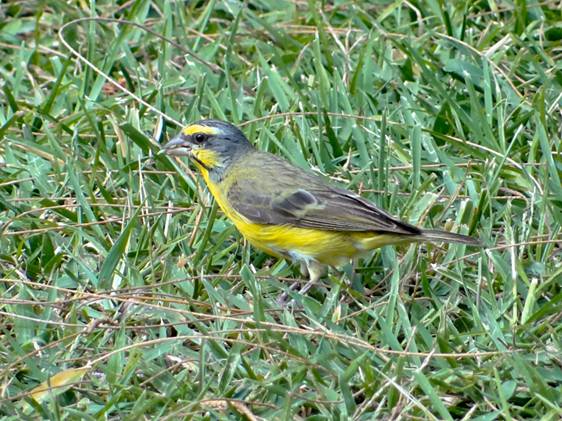 There were Cattle Egrets around, of course, as there are everywhere in Hawaii.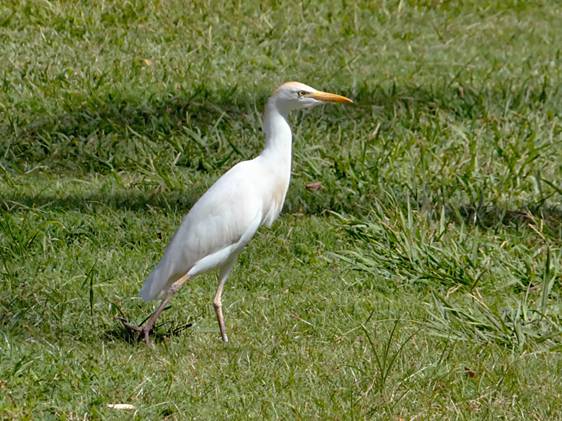 Kapiolani Park is very birdy.† I have seen 23 species on my trip so far, and I saw 18 of those species today in the park, in large numbers in many cases.† Itís an excellent place to bird, right next to Waikiki.
Here are some pictures of the Rose-ringed Parakeets.† First a male.† The males have a ring under their chin that extends around the back of their neck.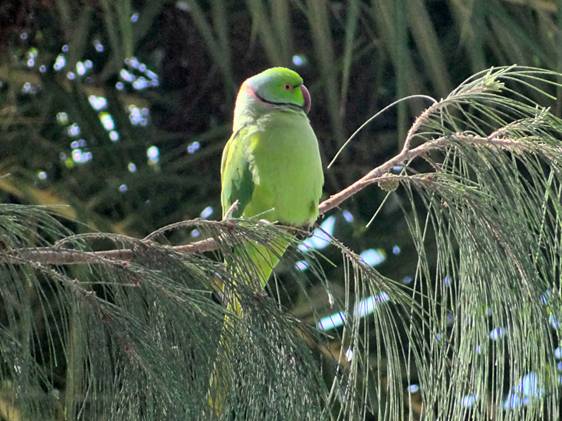 Here is a picture of a female at a nest hole.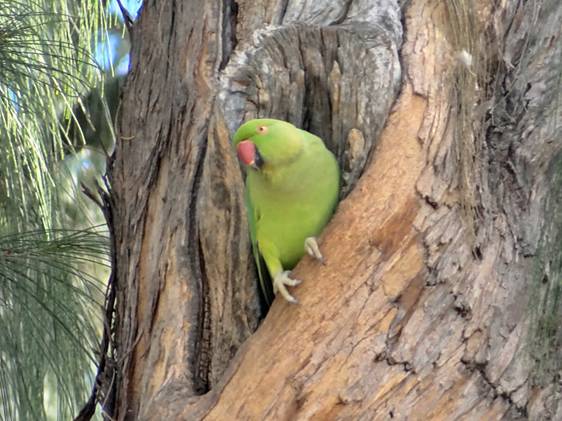 And finally, here is a picture of a male and female together.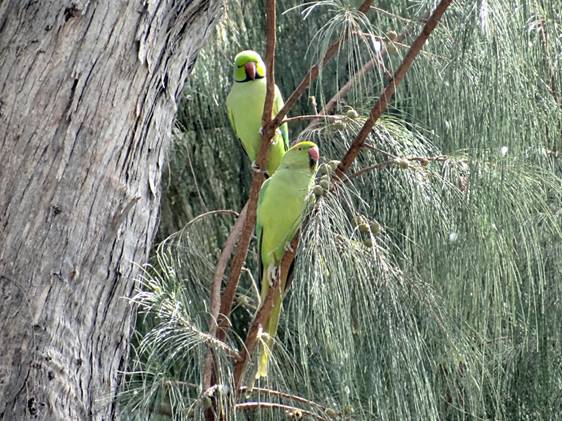 I saw that same species of parakeet in London in 2010, and of course, it isnít native to either London or Hawaii.† In both cases, caged birds have escaped, and now they are breeding. †The population is growing in both places.† I find it interesting that the same species can flourish in two places with such different climates.
I bought a Diet Pepsi at a concession stand along the beach and ate my humble lunch there.† Today it was sliced roast beef rolled up with Havarti cheese, thank you Costco again.† I also had some sugar snap peas and some baby carrots.† After I ate, I enjoyed sitting on a bench and watching the passing parade along the promenade.† People come in all kinds of shapes and sizes, and there are a lot of different clothes that people choose to wear for a walk along the beach.
By that time I was at the end of the park that abuts Waikiki, so I called Bruse and he came and picked me up.† Here is a picture of Waikiki from where I waited for him, at the edge of Kapiolani Park.† Oh yes, I did pick up Mallard today, for my trip list.† The bird I missed was White Tern, and I might end up missing it completely.† I do have a couple of other places to look, but I donít consider it likely at this point.† Here is the picture of Waikiki.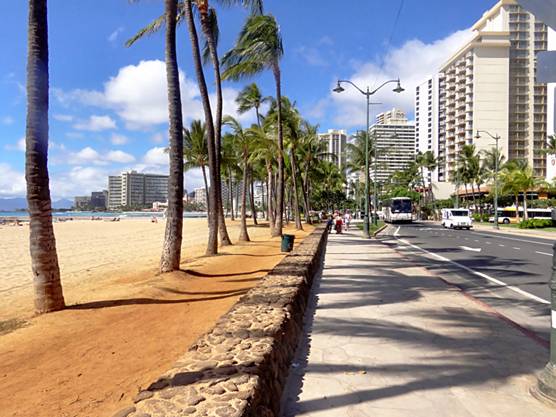 So, that was my day of birding in an urban park.† Three more species for my year list.† That brings me to 478 species for the year, of which 112 of them are lifers.† I have 23 species so far on this trip.† I might not have another report until Thursday, when Bruse and I plan to go on a tour at the James Campbell National Wildlife Refuge at the north end of the island.
Wednesday, October 31
I was up and out of here by 8:45 this morning, right into the tail end of rush hour traffic.† I had a new breakfast today.† Last night an older lady here in Bruseís condo complex who works at a Pizza Hut brought him a couple of individual pizzas, as she often does.† Since we are avoiding carbs as much as we can, the pizzas were going to go to waste.† I scooped off the toppings (one Supreme and one pepperoni) and mixed the toppings into four eggs and scrambled them in the microwave.† Pizza Eggs is what Iím calling my invention.† It was tasty, and along with some Greek yogurt, it was high enough in protein to do me.
Bruse had some business to take care of (he is the Resident Manager of the condo complex), so I took his car and made my way through the ridiculous traffic to Fort DeRussy Park, at the edge of Waikiki.† I found a metered parking place and ventured out into the park.† Almost right away I saw what I thought was my target species, very high above the park.† It was a distant look, though, and I wanted better.† Soon I did get much closer looks at my target species, WHITE TERN.† They are related to noddies and live in all the tropical oceans.† I saw a number of them today, maybe as many as a dozen altogether, which is more than I had ever seen before, all put together.† I even got a couple of pictures.† Here is one that perched very briefly in a tree.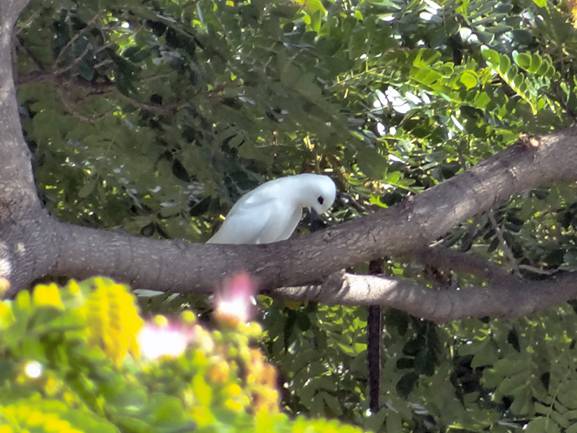 And here is a poor picture of a couple of them flying.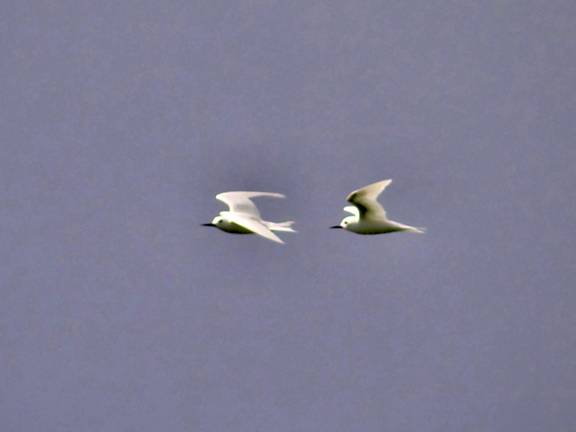 At least the pictures are good enough to prove that they werenít white pigeons, which are all over the place here.
I got some pictures of some common birds there at Fort DeRussy.† Here are a couple pictures of the tiny Common Waxbill.† My book says they are four inches long, which is about the size of a medium sized hummingbird, but they look smaller than that to me, especially when you are up close to them.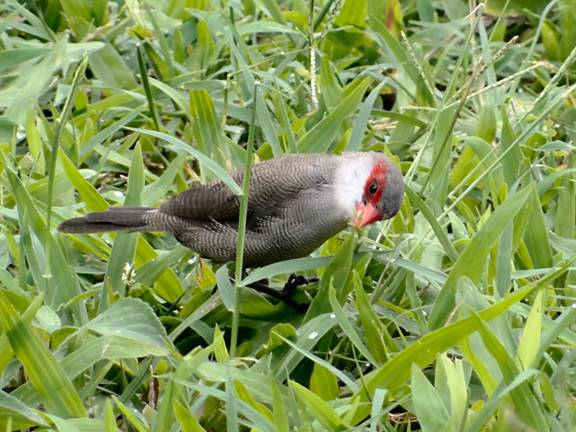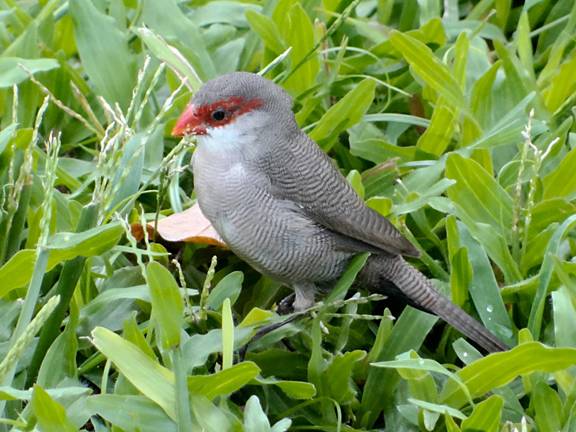 They are finches and they eat grass seed, as you can see in the pictures.
Here is a Common Myna, an import from Asia that I see in the East Coast cities of Australia.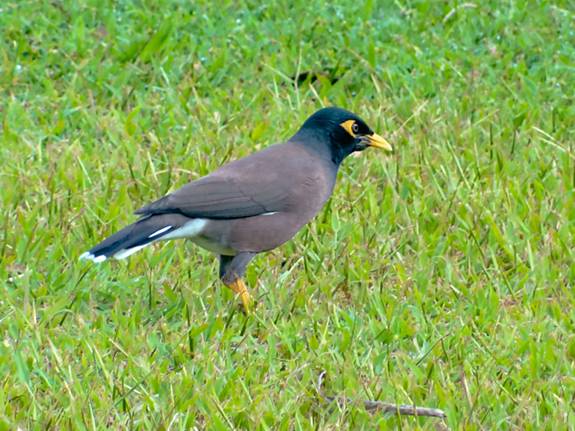 So, having seen the White Terns, I headed along the waterfront to Kakaako Waterfront Park, to look for my next target species.† They had been reported from that location in the last couple of weeks, supposedly sitting on the channel marker buoys for the harbor.
I found a place to park my car in the shade, which was nice, and I lugged my scope to the waterís edge, after first finding a rest room.† At first I didnít see any birds on the channel marker buoys, but then a few minutes later, I noticed another set of buoys for a different harbor, down the way a bit.† I could make out two birds sitting on the red buoy, and sure enough, with my scope, I could see that they were BROWN BOOBIES, the very species I was looking for.† It was too distant for a picture, so I walked along the waterfront to get closer.† When I stopped again, closer, there was only one of them there still.† I had a good look through my scope, and then I tried an experiment.† I mounted my camera on my tripod, which is something I donít do very often, as it is kind of a hassle.† It gives me a stable platform, though, and takes out most of the motion-blurring I get from hand-holding the camera for the vast majority of my pictures.† It was still a bit distant, but I did get some pictures in which the bird is identifiable, if you know what you are looking for.† Here is my best effort.† The bird is just above the number 2.
You can see the brown neck, head, and wings, along with the white belly and light colored bill.† Brown Booby, you are mine.
So, having gotten my two target birds of the day, much to my surprise, I spent another hour or more along the water, sitting, writing in my journal, eating my humble lunch, and finishing my book.† Here is a picture of the nice table and chair I found in the shade, near the car, which was again parked in the deep shade.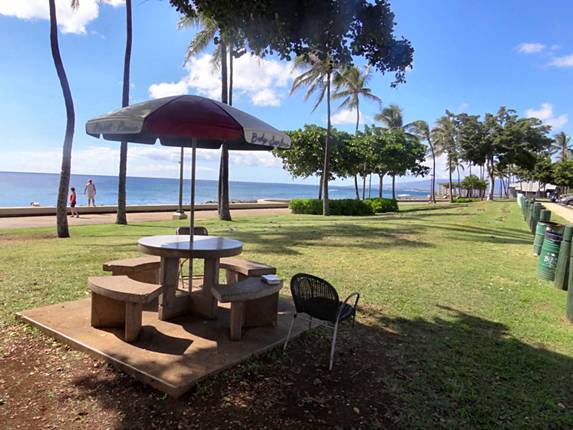 The table was fully in the shade when I got there.
Here is a picture of Waikiki with Diamond Head in the distance, from the point near where I spent my time.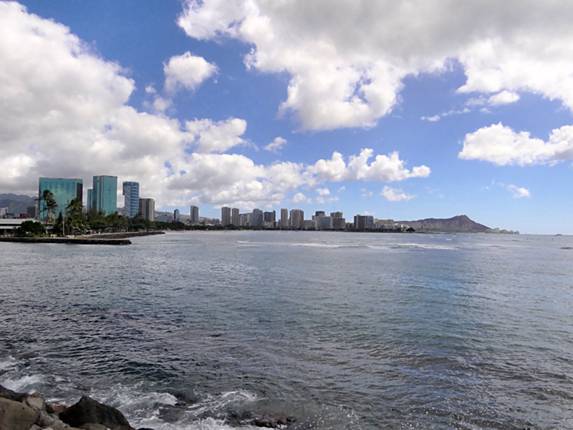 Hereís a closer view of Diamond Head.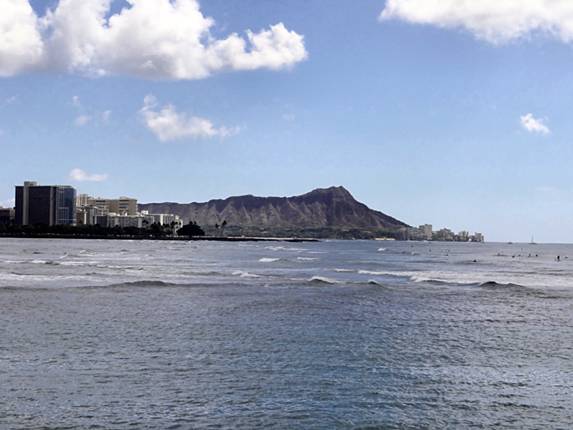 It was another beautiful day here.† There was a short time in the late morning when the wind wasnít blowing, and I felt hot, but the wind came up again, and it was quite pleasant sitting in the shade.
Here are a couple of Spotted Doves, which I refer to as the ďlarge dovesĒ, in comparison to the Zebra Doves, which are about half of their length.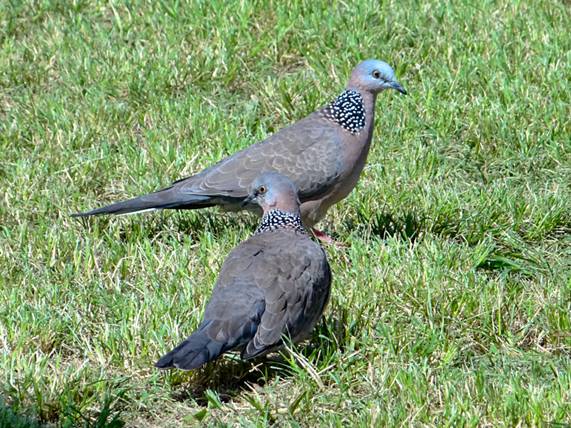 Bruse needed his car, so came back about 2 oíclock, and worked on my pictures and this report.† Tomorrow we plan to drive across the island and up the windward side, to James Campbell National Wildlife Refuge.† I have a list of target birds, and weíll see how I can do.
After my two new year list species today, Iím up to 480 species for the year, of which 112 are lifers.† I have 25 species now on this trip.
Happy Halloween!